Coming to the show? Don't miss a moment. Head down early. Enhanced security is in place. Pack light, we only allow small bags into the arena.
Event timings // Doors to concourse: 16:30 // Doors to bowl: 16:45 // Preliminary bouts: 17:45 // Main card bouts: 21:00 // Finish: 23:00 (all timings approximate)
Close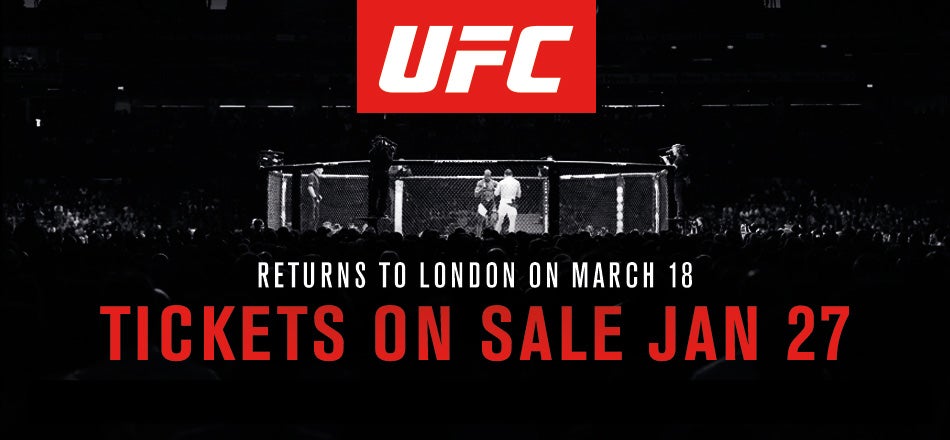 UFC Fight Night
Get access to exclusive updates and a heads-up on tickets.
After months of speculation, UFC has announced its much anticipated return to London, taking place at The O2 on Saturday 18 March 2017.
Following a hugely successful event in February 2016 with Silva v Bisping, which sold out in just 27 minutes, the organisation has confirmed that it will return to the English capital for a second consecutive year.
UFC Fight Night London will kick start the organisation's 2017 European events calendar, with more events set to be announced in the coming months.
The growing popularity of mixed martial arts in the UK is something which has undoubtedly been fuelled by the success of athletes such as Michael "The Count" Bisping, a pioneer of MMA in the UK who this year became Britain's very first UFC world champion.
As the popularity of the sport in Britain continues to grow, so does the demand from fans for live events.
James Elliott, Vice President and General Manager of UFC EMEA, said, "The UK, and in particular London, is an incredibly important market for us. Time and time again we return to the UK and we are blown away by the enthusiasm and support from the fans.
"Never has there been a better time for mixed martial arts in this region. The UK has its first ever world champion and we have an extremely exciting pool of talented young British athletes looking to make names for themselves on the international stage. What better way to kick off 2017 than with a return to The O2 in London?"