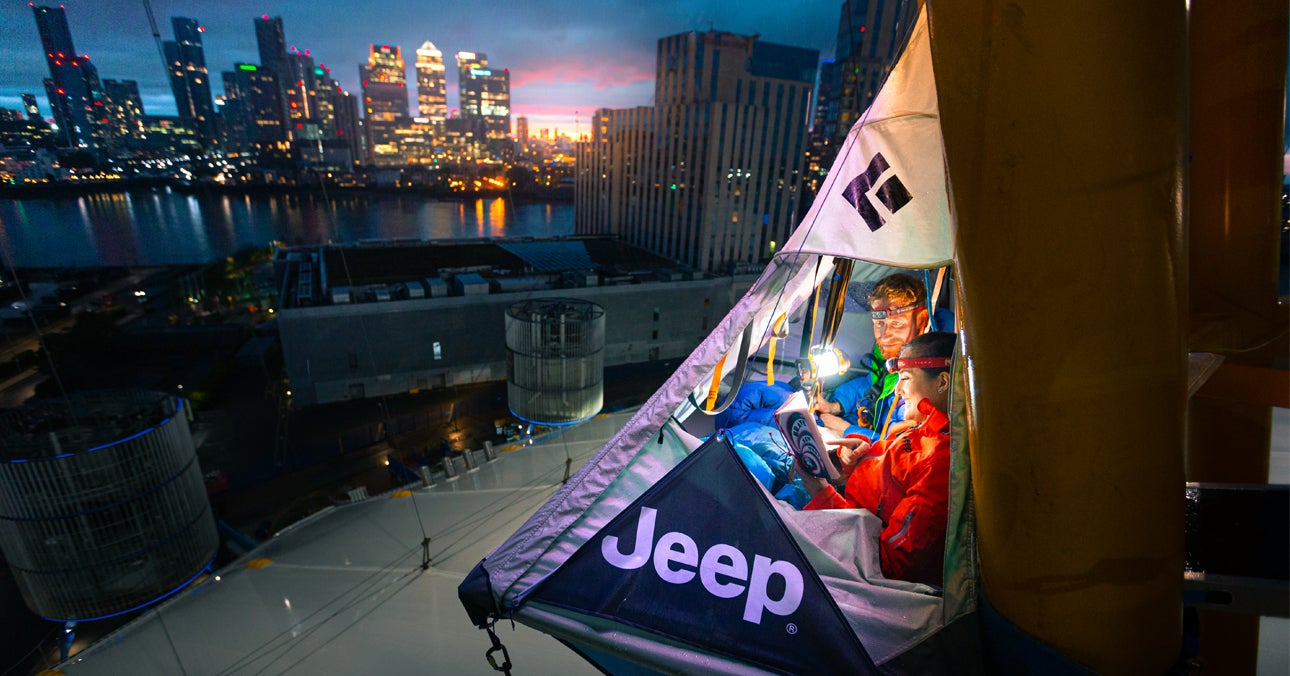 Win a nights' stay at the UK's most extreme staycation hotspot: The Renegade Motel
Staycations boring? Think again!
Jeep has opened quite possibly the world's most extreme staycation hotspot – a hanging tent suspended nearly 250 feet above The O2. And you can stay the night!! For free!
If you've got a serious head for heights, then this is the staycation experience for you.
Simply register your interest to stay at The Renegade Motel by filling out the form below and be in with a chance of winning a one-night stay for two on 18 or 19 September.
The Renegade Motel, formed out of an innovative hanging tent system known as a portaledge, has been fixed 70 metres above the ground to one of the yellow pylons on The O2.
You will be able to spend the night on the ledge and watch the sun set and rise over Canary Wharf, one of London's most famous skylines.
The motel experience, offering dinner, bed & breakfast and 24-hour concierge, comes equipped with a number of features inspired by the new Renegade 4xe. These include a wi-fi hotspot, Amazon Alexa connectivity – which in addition to the useful functionality also links to their awaiting Renegade 4xe on the ground – and a portable power supply charged by the hybrid Renegade.
Of course, important basics such as a rain cover to protect you and your guest from the Great British elements and a couple of very warm sleeping bags are also supplied.
In addition to the unique accommodation you will get to travel to the Motel in a new Jeep Renegade 4xe plug-in hybrid, which will be delivered straight to your front door.
On arrival, you will get a sneak peak of where you'll sleep that night while enjoying The O2's roofwalk experience, Up at The O2. You'll then dine in The O2 before heading up to your Renegade Motel 'room' for the most epic motel stay ever.
Staycations boring? Absolutely not!
To be in with a chance of winning a night's stay at the Renegade Roof Top Motel, fill in the form below:
For full terms and conditions click
here
.