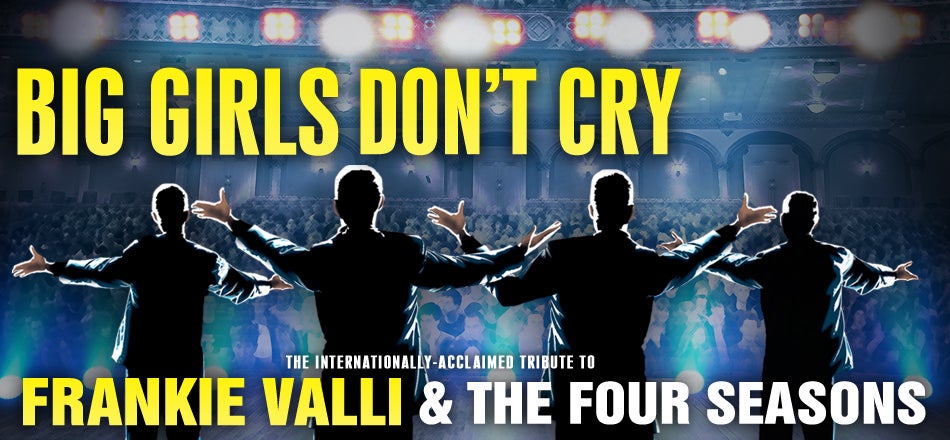 Big Girls Don't Cry
Get access to exclusive updates and a heads-up on tickets.
BIG GIRLS DON'T CRY
Featuring the Eastcoast Boys celebrating the music of FRANKIE VALLI & THE FOUR SEASONS
Oh what a night awaits for all music fans. . . during the 60s and 70s No1 hits Sherry, December 1963 (Oh What a Night), Walk Like a Man, Rag Doll and Big Girls Don't Cry saw the Four Seasons and lead singer Frankie Valli propelled to super stardom.
Selling an incredible 100 million records worldwide, there's a Four Seasons song that shares a special place in everyone's heart.
Big Girls Don't Cry authentically revives the sublime harmonies of New Jersey's finest. It showcases Frankie's incredible falsettos, and features solo hits that range from the exuberant – the rock'n'roll nostalgia of Grease, to the spine-tingling – show-stealers such as My Eyes Adored You.
Drawing from a repertoire that includes Let's Hang On, Working My Way Back to You, Beggin', Who Loves You and I've Got You Under My Skin you're never more than a song away from another classic hit. Big Girls Don't Cry – the critically-acclaimed spectacular that is taking the UK by storm.
"Dancing in the aisles, great music, fantastic voices and lots of comic moments that make this a great show to go and see" London Theatre
YouTube: https://www.youtube.com/watch?list=PLGdph7oBZsVGj9FrxLAlKPeAS2aen6v1q&v=JbThYPjGTKo
Facebook: www.Facebook.com/BigGirlsDontCryShow
Twitter: www.Twitter.com/BigGirlsDC
Website: www.easytheatres.com
Important Information
Security
Coming to the show? Don't miss a moment. Head down early. Enhanced security is in place. Pack light, we only allow small bags into the arena.
Road Works
Please be aware that there are road works taking place on Millennium Way affecting the route into Car Park 1. A short diversion is in place and Car Park 1 will be open as normal throughout the works. Please allow extra time when travelling to or from The O2 by road.
Tickets
Please only purchase tickets through authorised ticketing sites including www.axs.com and www.stubhub.co.uk - The Official Ticket Resale Marketplace of The O2. If you have, or suspect you may have been a victim of fraud when purchasing tickets, please report it to Action Fraud www.actionfraud.police.uk.
Taking care of your ticket
Your ticket's barcode is unique. Don't share the barcode of your ticket with anyone, especially online, as it may be used to sell your ticket on without your knowledge.
Help Desk
If you have already used our on-line help desk - and still need to get in touch? We can be contacted on 0208 463 2000 or click on the Help button at the bottom right of the screen. We're here to help Monday – Friday 9-7pm and 10-6pm at weekends.