Queens of The 80's- C.C. Catch and Sandra-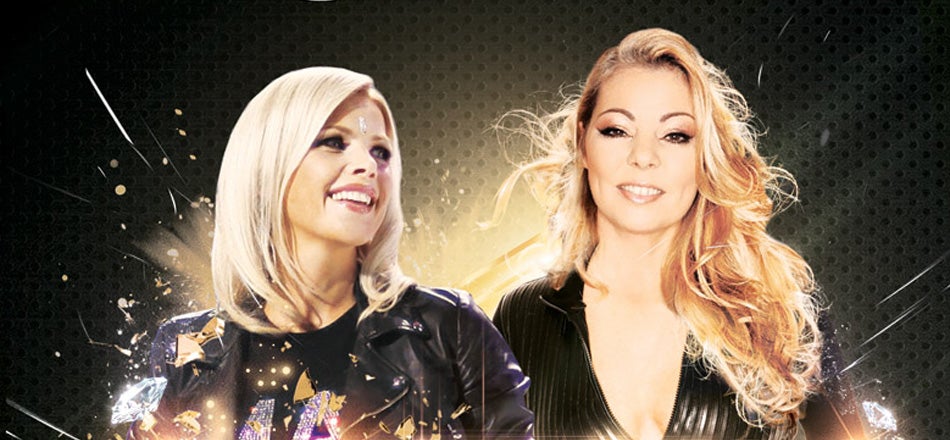 Queens of The 80's- C.C. Catch and Sandra-
Get access to exclusive updates and a heads-up on tickets.
C.C.CATCH
Born Caroline Catharina Müller in the Netherlands, she moved with her family to Germany in the late '70s. In 1980, she became a member of the girl quartet Optimal, who issued two singles. During one of the band's concerts in Hamburg, she was approached by songwriter/producer Dieter Bohlen who had just taken the continental charts by storm with his duo Modern Talking. She signed up with Bohlen who then changed her stage name to C.C. Catch, and the debut single of the newly christened singer — "I Can Lose My Heart Tonight" — was released in the summer of 1985.
Her collaboration with Bohlen lasted until 1989, resulted in four albums and 12 singles, and made C.C. Catch a queen of continental discos.
SANDRA
Sandra Ann Lauer, commonly known under her stage name Sandra is a German pop singer, who enjoyed a mainstream popularity in the 1980s and early 1990s with a string of European hit singles: "(I'll Never Be) Maria Magdalena", "In the Heat of the Night", "Everlasting Love", "Secret Land", "Hiroshima", "Don't Be Aggressive", "Heaven Can Wait", and many more. The popularity of many songs, which topped the charts worldwide, gained Sandra international success. "In the Heat of the Night", earned her second place at the Tokyo Music Festival in 1986, and her albums "Into a Secret Land" and "Close to Seven" have won high critical acclaim. During the height of her popularity, Sandra even managed to outsell Madonna in a number of countries around the world.
Prior to embarking on a solo career, Sandra was the lead singer of an all-female disco trio Arabesque, which had a massive following in Japan and Russia. Also, between 1990 and 2001, she provided vocals on album releases of the very successful group Enigma, which had top 10 hits in North America and United Kingdom.
With sales in excess of 30 million records worldwide, Sandra has established her position as the most successful German disco/pop female vocalist. A cult star with a devoted fan base, Sandra remains one of the most popular singers of the 1980s in Continental Europe.
Important Information
Security
Coming to the show? Don't miss a moment. Head down early. Enhanced security is in place. Pack light, we only allow small bags into the arena.
Tickets
Please only purchase tickets through authorised ticketing sites such as www.axs.com. If you have, or suspect you may have been a victim of fraud when purchasing tickets, please report it to Action Fraud www.actionfraud.police.uk.
Taking care of your ticket
Your ticket's barcode is unique. Don't share the barcode of your ticket with anyone, especially online, as it may be used to sell your ticket on without your knowledge.
Help Desk
If you have already used our on-line help desk - and still need to get in touch? We can be contacted on 0208 463 2000 or click on the Help button at the bottom right of the screen. We're here to help Monday – Friday 9-7pm and 10-6pm at weekends.