The Darkness - Fan Convention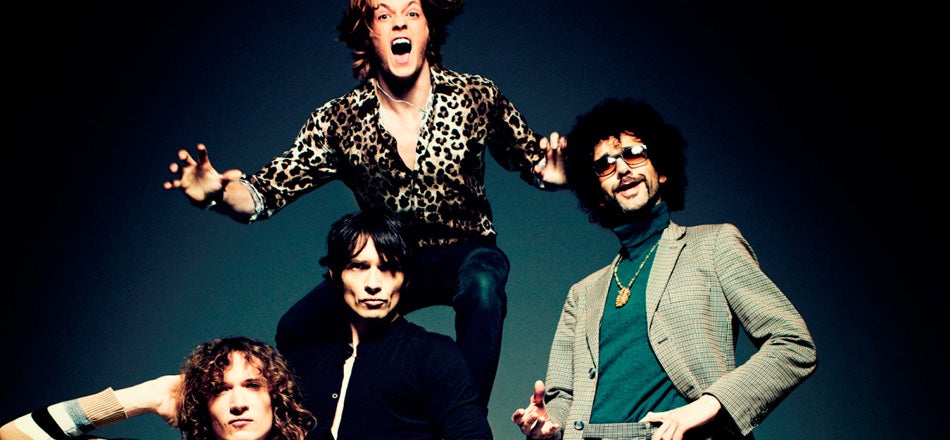 The Darkness - Fan Convention
Get access to exclusive updates and a heads-up on tickets.
DARKNESSTIVAL, a celebration of The Darkness.
Forever known for their celebration and enjoyment of the festive season, The Darkness have announced details of a very special fan convention and show for the week before Christmas. Darknesstival takes place at indigo at The O2 on Sunday 18th December 2016. The event kicks off at midday and finishes with a unique performance of new songs, old faves and a fan poll inspired set. Tickets can be bought for the convention or the gig or a bundle for both.
The convention will feature a memorabilia and photography exhibition of rare and unseen items and photos; a green screen 'be in the band' experience; a 360 Degree Virtual Reality concert screening; Q&A with the band; Masterclasses; table tennis competition to face Justin and Rufus in the final; Q&A with Scarlet Page; Guitar-Face "Gurn Off"; Karaoke; Fan Interviews; Darkness inspired Tattoo Parlour; Quizzes; 'Have your say' sessions; Documentary Trailer screening and much more....
The band commented "Christmas comes but once a year, so they say, and with our new album in the bag and ready for release in 2017, we want to spend Christmas with our fans at the IndigO2! Listen with amazement to old and new songs, gaze incredulously at ancient historical things from yesteryear, dribble freely in front of previously unseen pictures, and finally cry hot tears of shame as you lose to us at table tennis! Nothing says Christmas like a petulantly discarded table tennis bat, so come one come all!"
Important Information
Security
Coming to the show? Don't miss a moment. Head down early. Enhanced security is in place. Pack light, we only allow small bags into the arena.
Road Works
Please be aware that there are road works taking place on Millennium Way affecting the route into Car Park 1. A short diversion is in place and Car Park 1 will be open as normal throughout the works. Please allow extra time when travelling to or from The O2 by road.
Tickets
Please only purchase tickets through authorised ticketing sites including www.axs.com and www.stubhub.co.uk - The Official Ticket Resale Marketplace of The O2. If you have, or suspect you may have been a victim of fraud when purchasing tickets, please report it to Action Fraud www.actionfraud.police.uk.
Taking care of your ticket
Your ticket's barcode is unique. Don't share the barcode of your ticket with anyone, especially online, as it may be used to sell your ticket on without your knowledge.
Help Desk
If you have already used our on-line help desk - and still need to get in touch? We can be contacted on 0208 463 2000 or click on the Help button at the bottom right of the screen. We're here to help Monday – Friday 9-7pm and 10-6pm at weekends.