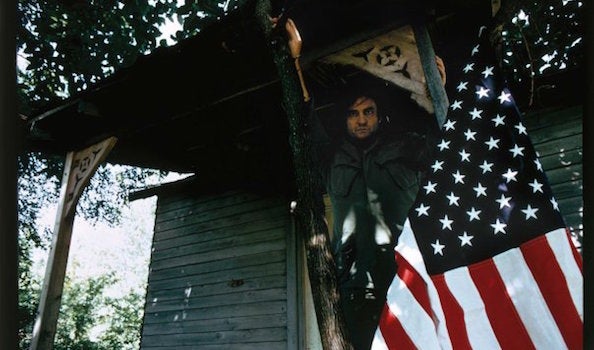 8 Feb 2016
The 10 Most Important Moments In Country Music History
Country music has enjoyed something of a revival in the past few years, with some acts becoming seriously popular, and events like the Country to Country festival selling tickets like hot cakes.
However, we wouldn't be where we are today without the amazing artists who pioneered the genre. Here are the 10 most important moments in country music history… and @KMatthewsxo has a bit of a spoiler for you: 'Elvis, Johnny Cash and Hank Williams are my new obsessions; so in love with them!' Good choices, Katie!
Elvis, Johnny Cash and Hank Williams are my new obsessions; so in love with them!

— Katie. (@KMatthewsxo) November 5, 2015
Johnny Cash's prison tour
Many of Cash's big hits were about prisons, so it was only natural that he did the rounds and performed his often mournful melodies to an incarcerated audience. This kicked off at San Quentin in 1958, and ended at the namesake of his 1956 single, Folsom Prison Blues.
Woody Guthrie's This Land Is Your Land
Back in 1940 everyone was listening to Irving Berlin's God Bless America – an overly-patriotic love song to the States. Guthrie found it overly trite, and a tad unrealistic, so wrote This Land Is Your Land, one of the most famous country songs of all time – an ode to the people, and an anthem for the working class.
Gene Autry coins the 'Country and Western' look
Ever wondered why people call it 'Country and Western'? Autry might just be the reason. The singing cowboy appeared in his first film in 1934, complete with a Stetson hat and boots. Suddenly the particular sound of country music was synonymous with the western look – an image that many artists are still trying to shake off!
The Newport Folk Festival
This iconic celebration of music paved the way for events like Woodstock and Glastonbury, and introduced a plethora of country and folk music talents. We reckon that the biggest moment has to be in 1965, though, when Bob Dylan infamously rocked up with an electric guitar, causing fury within the acoustic purists of the audience.
Dolly Parton meets Porter Wagoner
Parton's long time collaborator was the reason the blonde bombshell became famous – and they first met when she was just 21, performing on his TV show in 1967.
Taylor Swift at the 2009 VMAs
Beyoncé had definitely created the video with the most buzz in 2009, with her iconic Single Ladies, but somehow Swift won – showing that country music was coming back in a big way. Swift is now one of the world's leading female musical artists – maybe even as famous and influential as Queen Bey herself!
Hank William's last single
One of country music's heroes, Williams had a tragic end which left fans bereft, in a similar vein to Kurt Cobain and Amy Winehouse's untimely end. Somewhat hauntingly, his last released single in 1952 was called I'll Never Get Out Of This World Alive, a bone-chilling precursor to his death the following year, aged 29, in the back of a car on the way to play a country festival, of all things…
Elvis's TV scandals
In 1956 The King made a few TV appearances that would double his sales and cause a stir not just in the United States, but all across the world. Why? Well, it was all about his dancing, which was genuinely considered immoral, back in the day. Most notably, his thrusting to Hound Dog on the Milton Berle Show shocked audiences into a frenzy, causing uproar and a flurry of complaints. Nothing could have made him more famous!
The Country Music Hall of Fame
As soon as a genre of music has a Hall of Fame, you know it's legit. Country's started in 1961 and some of its first initiates were the recently deceased Hank Williams, Fred Rose and Jimmy Rogers. And, quite naturally, it's situated in Nashville, AKA Music City.
O Brother Where Art Thou released in 2000
When the Coen Brothers make a movie about something, you know it's cool – and it was noted there was a huge spike in popularity regarding country music after its release. The story follows a group of slightly chaotic prison escapees who make it as a country music outfit, and have a hit single with Man Of Constant Sorrow. The soundtrack is a wonderful journey through the genre, and the narrative traces many of the common themes of country music, including incarceration, religion, politics, money, infidelity, racism and justice.