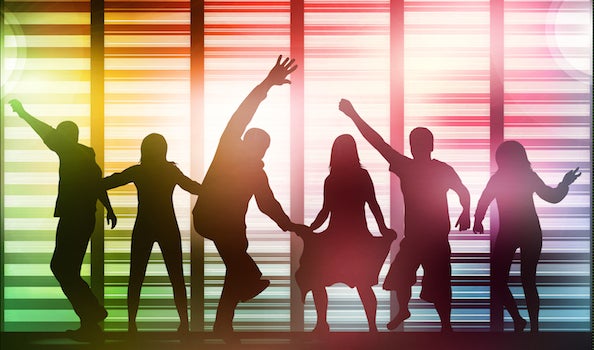 18 Nov 2015
10 Pop Stars Who Dance As Well As They Sing
It may be their voices that first got them noticed, but many of the world's musical talents develop some incredible dance moves along the way. It's part of the performance package – whether it's a full-on synchronised extravaganza, or more of a freestyle situation, songs sound so much better when you can have a cheeky boogie, don't they? Here's our top 10 pop stars who have truly learnt to shake what their momma gave them.
Jason Derulo
Jason Derulo and his ever-moving legs first made their appearance in 2009 with Whatcha Say and the man has showed no signs of stopping his moonwalks anytime soon. Talk Dirty and the aptly titled, Wiggle, are further proof of Derulo's remarkable moves, and as @TurnDaPAIGE_xx comments: 'If you can dance like Jason Derulo i praise you.' We can only imagine what kind of moves he'll be pulling at The O2 for the biggest arena tour of his career so far, which is set to kick off next Feb.
If you can dance like Jason Derulo i praise you 🙌🏼😍

— paige (@TurnDaPAIGE_xx) June 2, 2015
Beyoncé
If there's one dance move that could define a generation, it's the Single Ladies hand flip. Bey can make any dance move work, whether it's rolling around in the sand or twerking in her bathroom for 7/11, Queen B owns it. And, if we're honest, she was twerking LONG before Miley Cyrus came along.
Justin Timberlake
Speaking of Beyoncé's Single Ladies, Justin Timberlake recently showed that the iconic video was a source of dancespiration by hilariously performing it alongside Jimmy Fallon at the US Open. However, his dancing prowess dates back long before that. From the double-denim N*Sync days, to becoming THE gentleman of the modern era, Timberlake has been flaunting his impressive moves for two decades now. Boasting his fancy footwork in My Love, whilst also revealing his emotional side in Mirrors, JT has a move for every kind of occasion.
Rihanna
Barely a video goes by where Rihanna isn't showing off her impressive dance routines. From the early Pon De Replay days, to the more explicit Pour It Up, and the unforgettable Umbrella routine, Rihanna knows no boundaries when it comes to her dance moves and for that, we salute her.
Usher
Usher's '00s anthem Yeah was the soundtrack to many a club night dance-off, when your hat and cufflinks weren't just accessories, but part of the routine. Since then, the master of RnB has honed his skills and continued to deliver soulful anthems with a little added pizzazz. Even blokes are jealous, with @KarlJCompton tweeting: 'i wish i could dance like Usher or Jason Derulo.' – you'll get there, Karl! Just buy yourself an awesome fedora, crank up some serious beats, and remember that practise makes perfect!
i wish i could dance like Usher or Jason Derulo

— Karl Compton (@KarlJCompton) April 3, 2015
Nicki Minaj
There's no denying that Minaj knows how to work that booty better than anyone else on this planet, and she certainly makes the most of her curves in Superbass and the promiscuous, Anaconda. Yes, there were some aspects to the latter's video that were, frankly, terrifying (poor Drake looked overwhelmed at the sheer amount of flesh on show). Well, if you've got it, flaunt it.
Nicole Scherzinger
Nicole made her mark on the pop world thanks to The Pussycat Dolls, who were renowned for their saucy dance routines. Since going solo, Scherzinger has incorporated her love of dance in many of her videos, bringing a whole lot of fun to every song. Our favourite has to be Right There with her whole Pocahontas-tribal-sexy-vibe. Even if she ends up in a very questionable looking club (it looks more like an upmarket restaurant), the moves are still perfectly choreographed to showcase her lithe, limber energy.
Cheryl
Before Cheryl had even auditioned to become a pop star she had a dancer's blood flowing through her. The ex-Girls Aloud singer has made dance an important factor throughout her work. You only need to look at her catchy and colourful music videos for evidence of this. Crazy Stupid Love is the perfect example – there's such a joyful energy to the stompy hair-flicking choreography that perfectly encapsulates her cheeky, Geordie personality.
Little Mix
Well, with a song called Move, it's hard not to include these X Factor champions. Since their formation, the fierce young ladies have been sashaying their way through their music videos with fiery routines, power poses and dances that have been recreated in countless teen bedrooms – cementing them as one of the hottest girl groups of our generation.
Justin Bieber
From the floppy fringe days, to the modern day heartthrob, Bieber has been showing off his swift shapes since the start of his career – and having Usher as a mentor probably did the singer no harm in developing his talents. No wonder he can break a dance while barely breaking a sweat.