Home
13 AWESOME Aerial Photos of London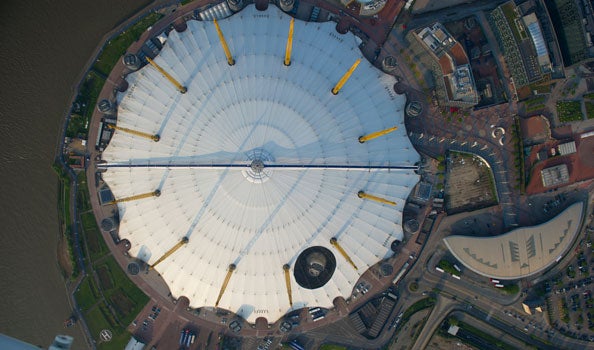 5 July 2016
13 AWESOME Aerial Photos of London
London is a pretty awesome city (not that we're biased) and it looks even more amazing from above. Unless you've chartered a private helicopter or have your own jet, there's a pretty good chance this isn't a view you're going to see all that often.
We've put together some of our favourite bird's-eye pics of London. And don't forget, you can also sign up to scale our famous tent and take a few of your own, thanks to Up at The O2.
1. We love the dark and moody sky on this one @lukash199!
2. Stunning night view over the Southbank courtesy of @jasonhawkesphot.
Night aerial over #SouthBank, #London. @southbankcentre, @southbanklondon, @MondrianLDN @OxoTowerWharf, pic.twitter.com/YuPfBpmJoC

— Jason Hawkes (@jasonhawkesphot) June 23, 2016
3. See, London even looks fab in black and white. Who needs colour anyway @theobleckmann?
4. We reckon the guys at @NPASLondon have a pretty cool job policing our capital from the sky – imagine views like this every day!
.@BillyBeefeater And a good morning to you from above this wonderful City! #London #bankholidayweekend @HRP_palaces pic.twitter.com/EYj1eueSyx

— NPAS London (@NPASLondon) May 27, 2016
5. And before they were known as @NPASLondon, they were called @MPSinthesky. We couldn't NOT share this amazing image…
Wonder who snaps the aerial images of London on the @MPSinthesky account? Find out here http://t.co/7TMEzxvWLn pic.twitter.com/4ltRVgFO3N

— ITV News London (@itvlondon) June 11, 2014
6. Oooh look, it's us! Thanks @mooncatwrangler.
7. More from @mooncatwrangler who is a professional abseiler. Don't look down!
8. The BT Tower is no longer London's tallest building, but it's still a pretty awesome vantage point, isn't that right @bsmart?
London, from above. This was taken from the top of the BT Tower. The photo is looking nort… https://t.co/0R3P9xHtmQ pic.twitter.com/cgSm2WtLXe

— Ben Smart (@bsmart) May 10, 2016
9. That accolade now well and truly belongs to The Shard, which just happens to be the centrepiece of this amazing shot by @zarashabrina!
10.We always knew Hyde Park was pretty massive, but this snap from @kathyroseobrien confirms it!
11. Is it just us, or does this look like London in miniature? Great shot @matthewbowden.
From above Liverpool Street Station #london pic.twitter.com/ZYdd2JTTV9

— Matthew Bowden (@matthewbowden) April 21, 2016
12. If there's one benefit from waking up early, this must be it @fatalswitzerland.
13. London squirrel from above. Oops, how did that get in here?