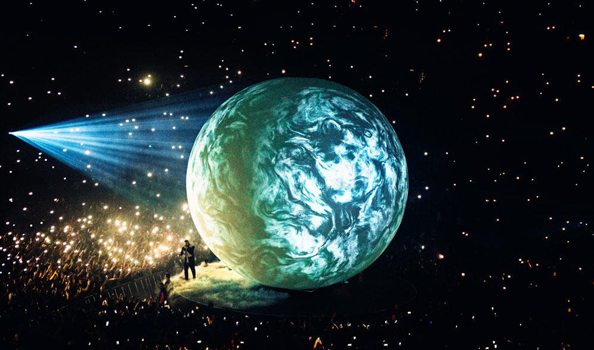 19 Jan 2018
2017: 10 Incredible Moments - Were You There?
It's our big birthday in June –we hit double figures, we are ten! To celebrate we thought we would look at the 10 most amazing things that, us, you and the arena has witnessed in 10th year so far, it's been a-mazing for sure. Roll on the next 6 months...
1. Bruno Mars
Give us that, give us that, give us that Bruno baby! 24K liquid gold in the flesh. Bruno had us all in a tiz, here's why:
Night 2 of @BrunoMars - total treasure! ❤️ #24kmagic pic.twitter.com/z2Z196n6rb

— The O2 (@TheO2) April 20, 2017
2. Drake
Whoaaaaa. The Boy Meets World tour was more than anyone was ready for. Vocally, visually - the vibes were just too good. Every, single, minute. Fingers crossed he makes a return soon.
We ain't going anywhere when the shows this good @Drake #BoyMeetsWorldTour pic.twitter.com/33XPRq7Rrp

— The O2 (@TheO2) February 1, 2017
3. The Brits
The whole arena was electric from the moment Little Mix opened to Katy Perry's jaw dropping set, to the most touching George Michael tribute ever. This year's ceremony had us all on the edge of our seats (and sets if you were joining us at home.)
4. Ed Sheeran
Our friend and everyone's favourite singer-songwriter the legendary Ed, literally had the crowd hypnotised – see!
When it kicks in at The O2 🙌@edsheeran #dividetour pic.twitter.com/HRxiSReGvp

— The O2 (@TheO2) May 3, 2017
5. Jamiroquai
Returns after 7 years, chooses us to perform at, sells out in minutes. They haven't even played yet and it's already – a highlight, (counts the sleeps).
Just drove past our poster & jumped out with excitement, we can't wait to play for you guys! #JamiroquaiLive2017 https://t.co/lZArO8zk6Q pic.twitter.com/jcIvX9vWTI

— Jamiroquai (@JamiroquaiHQ) 15 March 2017
6. Craig David
All over you. And he was. The love for this man was beyond, and Craig was pretty happy too. We love you, Craig!
Unbelievable tonight @TheO2 Arena. I am still buzzing & what's blowing my mind is I'm back here again tomorrow🙊🙌🏽 #FMIArenatour @nickykelvin pic.twitter.com/mfpYggpeWo

— Craig David (@CraigDavid) 25 March 2017
And of course, this happened:
7. Black Sabbath
Just this. No explanation needed.
Bassically pic.twitter.com/ZxGpYbqdSJ

— BlackSabbath (@BlackSabbath) 31 January 2017
8. Green Day
The band have the most loyal fan-base since they started in 1986, here is just one of the reasons why - they absolutely smash it live.
9. The Weeknd
Abel certainly likes to make an entrance and this is one that no one in the arena will ever forget. *Collects jaw from floor.
He's arrived in London in style 🙌 @theweeknd pic.twitter.com/8Wej86109n

— The O2 (@TheO2) 7 March 2017
10. The best festival of the year
There's no doubt about it, C2C is a highlight of every single year. The cowboy boots were on and the up and coming stars of country music took to the stage for one very happy crowd.
Best pic of the weekend? @marenmorris rocking the last night of @C2Cfestival - cheers @lukedyson pic.twitter.com/wqRebKS9UE

— The O2 (@TheO2) March 12, 2017