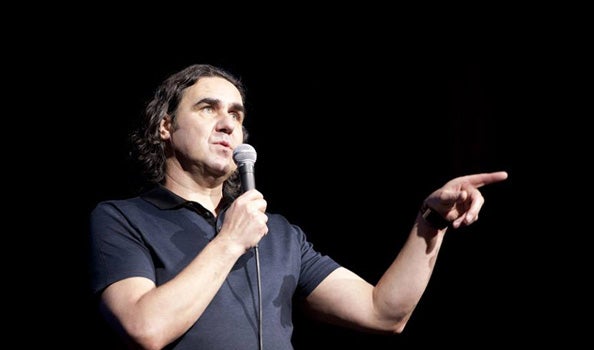 24 Jan 2017
2017's Biggest Laughs At The O2 [3 mins]
If your New Year's resolution is to inject more fun into your life, there's no better place to start than ramping up the amount of comedy you watch! Luckily for you, we have a jam-packed schedule of hilarious acts and stand-up tours in 2017.
So take a look at some of the comedy legends who will be sending The O2 audiences into fits of giggles over the next 12 months.
Good Mourning Mrs. Brown
If you're a big fan of the multiple award-winning TV show Mrs. Brown's Boys, you're not alone. Radio Times readers recently voted the series as the Best British Sitcom of the 21st Century. Now, you can see Brendan O'Carroll's side-splitting portrayal of Agnes Brown live at The O2 arena from 5 to 9 July. In the show, Agnes plans Grandad Brown's funeral - although he may not appreciate her efforts, as he's not actually dead! We won't give you any spoilers, but you can rest assured the show will have all the slapstick mayhem and blue humour you've come to know and love.
Jack Whitehall
Simply can't wait until the summer to get your comedy fix? Don't worry, a brand new show from one of Britain's best and brightest talents is just around the corner.
On 24 February, Whitehall will bring his unique brand of high-octane frivolity to thousands of fans at The O2, as part of his At Large tour. This will be his biggest tour to date, so book your tickets now if you don't want to miss out!
Not familiar with his work? Whitehall won the British Comedy Award for the King of Comedy three years running and has hosted the Royal Variety Performance and Live At The Apollo.
Micky Flanagan
Needless to say we're big pretty fans of Micky Flanagan. It's been a long three years since the cockney comedian finished his Back In The Game tour in 2013, where he completed a staggering 129 shows across the UK and Ireland.
But he's back in 2017 with the An' Another Fing tour and he'll be gracing The O2 stage from 14 September to 5 October. This gives you plenty of chances to see Flanagan's observational humour and cheeky charms in person - and it sounds like @Harriemorris21 will be doing just that!
Beyond excited to see Micky Flanagan at the O2 next year 🙋🏻🙋🏻🙋🏻

— Harriet Morris (@Harriemorris21) 20 November 2016
John Bishop
Flanagan isn't the only comedian to keep fans waiting; much-loved Liverpudlian John Bishop's last tour, Only Joking, was also in 2013. We'll forgive him though, as we're confident this will be his biggest and best show ever, making it well worth the wait!
Winging It will head to The O2 on Thursday 2 and Friday 3 November sograb your tickets now to enjoy Bishop's comedy genius live.