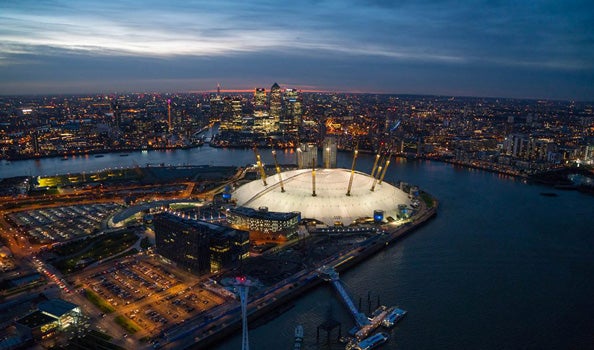 19 Dec 2016
24 Hours To Have The Best Time At The O2 [3 Mins]
So, you've decided to spend the day at our place? Firstly, congrats on making a quite frankly AWESOME decision. Now it's time to turn your attention to the serious stuff, and figure out exactly what you're going to do once you get here.
Hold on tight, folks, this is going to be 24 hours you'll never forget!
The night before
There's a strong chance you're already getting pretty excited by now – and who could blame you? We'd recommend spending some time working out the logistics of your trip, so you can maximise your time under the tent.
How are you going to get here? It depends how flashy you're feeling – hop on the Tube or the bus, or do it in style with MBNA Thames Clippers. If you're planning on driving, remember you can pre-book up to midnight the day before the event to guarantee yourself a space.
It's also a good idea to check out TFL so you can plan your trip down to the last second – and don't forget to look again in the morning, just in case there's any disruption.
Wakey, wakey, rise and shine!
Now it's time to get some rest… you've got a busy day ahead of you!
Even if you're not a morning person, we GUARANTEE today will be worth dragging yourself out of bed for. You could grab yourself some popcorn and enjoy a morning flick at Cineworld – it's the perfect chance to rest your legs before hitting The O2 full throttle.
Two of our most amazing attractions open their doors at midday, so you can fit in a good few hours of fun. Take a leaf out of @Siwri88's book and try your news reading skills at Sky Studios, or head to the Nissan Innovation Station for a virtual driving experience.
At the Sky Studios experience at the O2 Arena today, I gave reading news bulletins a go. #SkyLive #SkyUK #02Arena pic.twitter.com/6zmqtQ3F3S

— Simon Wright (@Siwri88) November 12, 2016
You could even try to fit in both… go on, we dare you!
Time to refuel
Everyone's gotta eat, and the good news is there are more restaurants under our tent than you can shake a (chop)stick at. Whether you're in the mood for a quick snack or a belly-busting burger, we've got you covered.
Don't forget to grab yourself a drink as well, you're going to need to be fully refreshed for what else we've got in store…
The main event
It's the moment you've been waiting for – time to head into The O2 arena. You might be rocking it out with one of the world's greatest acts or seeing some side-splitting comedy, either way, this is just the place to do it.
Take your seats - or firmly plant your feet if you're going to be standing - and enjoy the show. Don't forget to update all your social media accounts - this is an experience that's guaranteed to make your mates green with envy!
Dance the night away
If you're lucky enough to be down at our place when we've got a club night on, there's no reason why your day should end here.
Head up to Building Six for some banging tunes and the world's hottest artists. Last entry is 1am, so you can bust out some shapes well into the wee hours.