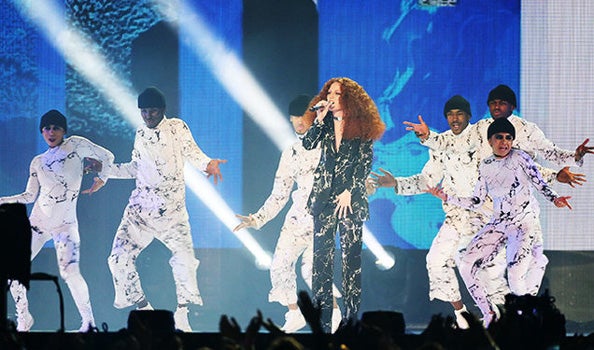 24 Nov 2016
4 Acts That Are SMASHING IT Right Now [3 mins]
The music industry is a noisy place (literally!) so how do you stand out from the crowd? The answer – take inspiration from these four stars who are owning it right now! We can't wait to see what they do next…
1. Jess Glynne
Chances are Jess Glynne wasn't prepared for just how MASSIVE she was going to become in 2016. And when she performs her Take Me Home tour at The O2 arena, it will be the icing on the cake for the red headed singing sensation.
Glynne's debut album, released in 2015, sold 300,000 copies in just ten weeks, and she's now one of only two British female artists to have five number one singles in a row. Girl power at its finest!
2. The 1975
Hitting number one in the UK with your second album is a special achievement, but topping the US Billboard album chart at the same time is something else. That's what The 1975 managed to do when they released I Like It When You Sleep, For You Are So Beautiful Yet So Unaware Of It earlier this year. (Prize for the longest album title EVER!)
Not so long ago, they were playing tiny venues across the UK, but they will certainly be stepping it up a notch (or three!) when they play their biggest show to date – under the tent.
3. Shawn Mendes
Just a few years ago, Shawn Mendes was an unknown, sharing six-second clips on his Vine channel. Fast-forward and he's preparing to head out on his first-ever world tour, including a date at The O2 arena on 1 June, 2017.
"I'm so excited for the Illuminate World Tour and to head to the UK for the shows there. The British fans have been so supportive and this will be my first time headlining in Scotland and Manchester, as well as The O2 in London. I can't wait!" he said. We're with you @chictana – we can't wait either!
how excited are you to perform at the o2 arena next year? i'll be there and i'm SO hyped!! #ShawnOnAMAs @ShawnMendes

— charley (@chictana) 20 November 2016
4. Ariana Grande
She's been famous since the age of 13 after a stint in the Nickelodeon series Victorious, but Ariana Grande is smashing it like never before.
Her most-recent album, Dangerous Woman, saw her draft in the likes of Nicki Minaj and Lil Wayne for guest spots. That's one awesome set of musical mates if ever we've seen it.
Grande is also in Spotify's top 10 most-listened to artists, with more than 28 million plays a month. She's set to bring her Dangerous Woman tour to The O2 arena next May. And we say. Bring. It. On!