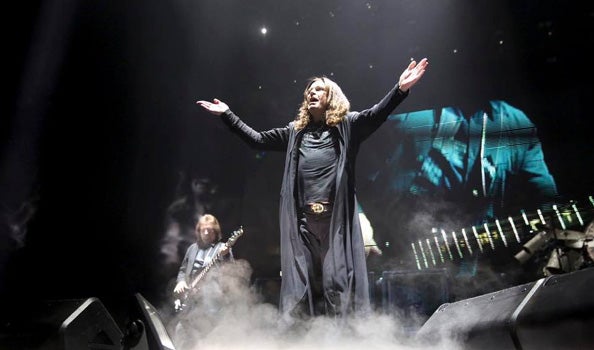 22 July 2016
4 Bands GUARANTEED To Make You A Rock Fan
Rock. It's one of those musical styles that divides opinion, but given that it's been around since the 1960s, it must have something going for it.
Fast-forward to the noughties and the genre has earned itself a whole new legion of fans. We're not afraid to rock it out now and again. And here are some acts who'll convince you to do the same.
1. Alter Bridge
Orlando's Alter Bridge are the kings of combining gorgeous melodies with something a little edgier – and fans on both sides of the Atlantic love it. @johncookgolf captured them playing in the US, and we're hoping for more of the same when they hit the tent later this year.
Great hang w/Flip, MilesK,MarkT and Brian @AlterBridge_USA. Not enough time for their set. Too many songs to play! pic.twitter.com/Px3LM0Vefb

— John Cook (@johncookgolf) July 10, 2016
If you're still not convinced of Alter Bridge's rock prowess, lead singer Myles Kennedy has been singing with Slash for years. In fact, he was widely rumoured to be joining Led Zeppelin in 2008, before Robert Plant got cold feet over the band's reunion.
2. Bring Me The Horizon
America might have their fair share of hard rockers, but (and we may be biased here) us Brits rock harder than the rest! Compared to giants of the genre, Bring Me The Horizon are new kids on the block after forming in Sheffield back in 2004.
The band have certainly made their mark during their relatively short time in the business. They once leapt on Coldplay's table at the NME Awards, smashing up Champagne bottles in the process and earning themselves a place among heavy metal's elite.
3. Nickelback
Nickelback's shows tick all the right boxes when it comes to rock as one fan found out a few years ago. Guitars? Check. Sweaty lead singer? Check. You get the idea…
And if the idea of seeing Chad and co. in action gets you hot under the collar, you can catch Nickelback at The O2 Arena on 20 October.
4. Black Sabbath
How could we leave Sabbath off the list? We couldn't! These Brummies basically invented metal, thanks to Tommy Iommi's unique guitar playing and Ozzy Osbourne's unmistakeable howl.
Ozzy is up there with the very best, as he'll prove yet again on this farewell tour. They tore up Download back in June – so do not miss what's likely to be your last chance to see one of the greatest rock bands of all time. Isn't that right Mark White?