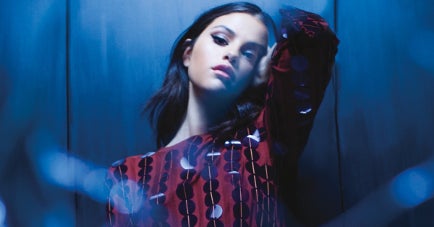 15 June 2016
5 Amazing Things You DIDN'T Know About Selena Gomez
She's a singing sensation, TV and film superstar, and yes, everyone knows, she was once Justin's biggest Belieber. But there's more to Selena Gomez than a famous ex.
Ahead of her Revival Tour hitting The 02 in November, we delve a little deeper into Gomez's fascinating history.
1. She was besties with Barney!
Gomez landed her first acting gig as a cute as a button nine-year-old starring opposite a big purple dinosaur in Barney And Friends. She appeared as Gianna between 2002 and 2004 and it was also where she met fellow Disney star and friend Demi Lovato. So if, like @_pintsizebeauty you come across a cuddly talking T-Rex on the telly, keep an eye out for Gomez. Hope it was a good episode Binx!
When your 4 year old is watching Barney and you spot Selena Gomez 😄

— binx (@_pintsizebeauty) May 26, 2016
2. Success didn't come straight away
Gomez might have gone global, but after two failing pilots that never made it to air, her rise to stardom wasn't without a hitch. After Barney, she guest starred in Disney's The Suite Life Of Zack And Cody, followed by a stint in Hannah Montana alongside Miley Cyrus. Thankfully the child star landed the perfect role as Alex Russo in Wizards of Waverly Place, where she could show the world the power of her vocal chords.
3. She has a heart of gold
Just when we thought she couldn't get any sweeter, Gomez became the youngest ever ambassador for Unicef, aged 17. Her first field visit saw her travel to Ghana in 2009 and two years later, she went to Chile to meet families involved in Unicef programmes. She also represents the Ryan Seacrest Foundation, a charity dedicated to inspiring young people through entertainment and education-focused initiatives. Now if that isn't an amazing role model, we don't know what is.
4. She's named after another singer
OK, so this singing sensation was murdered by the president of her fan club in 1995. But Gomez's parents were such fans of Selena Quintanilla Perez, also known as the Queen of Tejano Music, they named their child after her. Gomez grew up listening to the late star's music and has often spoken about how much she loved Jennifer Lopez's portrayal of the singer in the 1997 biopic, Selena.
5. She loves dogs (well, who doesn't?!)
Gomez is a sucker for four legged friends and has six rescue dogs, Willie, Wallace, Fina, Chip, Chazz and Baylor. She adopted Baylor, a husky cross, in 2011 after visiting an animal shelter with then-boyfriend Justin Bieber. "We went to a shelter just for fun … and we saw this adorable, adorable puppy. I literally felt like he said my name. So, I had to have him," she said at the time. Gomez + dogs = the cutest thing ever. We agree @arianassugar!
Selena with dogs are the cutest thing ever. 😍💕 @selenagomez 💕💜 pic.twitter.com/dwbakqKs25

— martha♡∞ (@grandeschampion) March 21, 2016