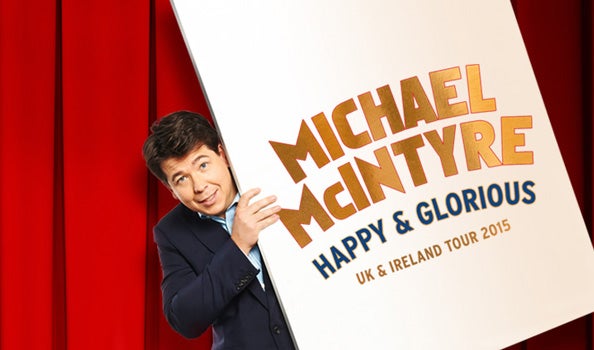 17 Sep 2015
5 Comedy Careers Michael Mcintyre Has Helped Launch
Michael McIntyre is arguably the jewel in this country's comedy crown. It's hard to think of a more affable comic, who thoroughly stamps out the age-old myth that all the best comedians are hiding a bitter dark side. With his jolly smile and booming voice, he kind of reminds us of a comedic Father Christmas – doling out laughs instead of presents, whether he's putting a whole new spin on Man City, or debunking the myth of revolving doors.
Speaking of gifts, one of his more influential triumphs is launching the careers of several of the nation's most beloved up and coming comedians, thanks to his Comedy Roadshow. Conceived as a way to showcase the rich comedic talent seen in underground clubs or Edinburgh Fringe shows, each season has featured stand-up acts from men and women who were relatively unheard of at the time, but who have since been propelled into stardom. We take a look at the top five comedians McIntyre helped along the way, ahead of his Happy and Glorious tour coming to The O2 next month…
Kevin Bridges
Renowned for his thick Scottish accent and prematurely world-weary attitude, Bridges is already a firm favourite in UK panel shows and has sparked a plethora of cultural references, the most famous of which is his character, Chad Hogan – the infamous 'coolest kid in high school'.
But where did this originate? Of course, it was Michael McIntyre's Comedy Road Show. Where else! Chad's Hollywood-esque Spring Break party was a stark contrast to the terrifying 'emptys' in Glasgow, where Scottish children, grown old before their time, would fight over warm beer and steal as much as possible. With this skit in 2010, Bridges cemented his name as one of the funniest 23 year olds the nation had ever seen, and five years later, the only thing that's changed is his age…
Micky Flanagan
If a loveable cockney rogue is your perfect comic hero, then Micky Flanagan ticks every box. Last year he was one of the honoured guests in Channel 4's Big Fat Quiz of The Year, teaming up hilariously with Spice Girl, Mel B. And he's a regular on comedy panel shows – including a captainship for Was It Something I Said?
But where did it all begin? Well – the clue's in the title of this article (obviously)! Like all great comedians, Flanagan captured the heart of us Brits with his perfect observational skit on going 'out out' at his breakthrough performance on the Comedy Roadshow six years ago. We're proud of you, Micky. Time to go 'out out' and celebrate.
Milton Jones
Jokes are underrated, and by jokes we mean jokes. Comedians are all about anecdotes and observations these days, which is probably why Milton Jones' groan-worthy puns and punchlines are weirdly refreshing and addictive. Hear a handful, and you're smirking. Hear a hundred, and suddenly you're wheezing for breath on the floor having lolled yourself off the sofa.
But his career took off after a series of well-placed Grandfather gags at the Comedy Roadshow in 2010, our favourite being: 'My grandfather's last words to me were "You selfish boy!" And not long after I became a fishmonger.' Classic.
Paul Tonkinson
You'll most likely know him as a presenter for The Big Breakfast and The Sunday Show, or maybe for one of his many comedy shows on BBC Radio 4. What you might not know is that he's won two Time Out Comedy Awards, and will be accompanying Mr McIntyre in his upcoming Happy & Glorious tour, as a warm-up act and writer.
Of course, he has his mentor to thank for much of his success, after a debut at the Comedy Roadshow in 2009, where he hilariously pulled apart the politics of sandwich making when you move in with a significant other. Who knew crummy margarine could be so funny? Maybe it's the Yorkshire accent…
Tom Stade
Technically this guy is still pretty up and coming, but we think he has all the talent needed to catapult into the big time. There's something about his 'drunken' Canadian accent, and the wonderful naivety of a foreigner in the UK, that make his reference-heavy remarks so hilarious – like how he thought that everyone was really healthy in Wolverhampton because they were all wearing tracksuits.
Such a strong Comedy Roadshow debut has helped him garner appearances on Mock The Week and Dave's One Night Stand. There's more to come for this maple-baked lad from across the pond…
Of course, only the best comedians would have such discerning taste – which is why we're proud to be hosting McIntyre's new tour in October.
Just be sure to bag yourself some tickets to his show next month, and then you can see him in the flesh! Take it from @becky_ladd, 'Such a great night watching Michael McIntyre's Happy & Glorious tour. Did not stop laughing.'
Such a great night watching Michael McIntyre's Happy & Glorious tour. Did not stop laughing 😂 So… https://t.co/IKzHJj41Un

— Becky Ladd (@becky_ladd) September 5, 2015