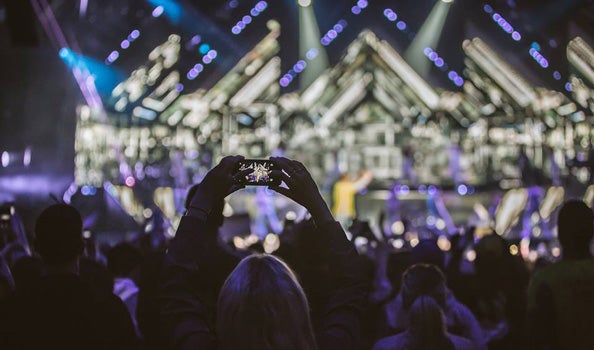 24 Nov 2016
5 Life Hacks To Make The Most Of Your Time At The O2 [3 mins]
There's oh so much to do at The O2 that you could be forgiven for wondering where the hell to start! But thanks to these handy life hacks, you don't need to fret over how to make the most of your day…
1. BRING your phone!
OK, so this first tip isn't so much a life hack as a reminder not to leave your phone at home. So, if you were planning a day off from technology… DON'T!
From downloadable maps to handy apps, your phone can help play a part in making sure you have the best time ever at The O2. What's more, you can live stream your day on social media and post loads of epic pics – your friends and family will be well jel. Take a leaf out of @Libster_99_x's book:
Another bloody good gig by @bastilledan at the o2 in London right up at the barrier - 4th time seeing them and they never disappoint pic.twitter.com/PeBPRoy2G3

— Liberty Butterworth (@Libster_99_x) 11 November 2016
2. Be in the know
Never be not in the know again! And if that doesn't make sense, all will become clear when you sign up to our newsletter through our website. We send out exclusive information about what's happening and when. So if you want to be the one in the know, and not not in the know, if you know what we mean, our newsletter will give you first access to events, presale tickets and show you what's going on before everyone else - what could be cooler than that? We don't know!
3. Grab a parking space
Everyone loves driving around a car park aimlessly looking for an empty space, right? Maybe not. Pre-book your parking before you arrive to avoid disappointment and maximise your time inside. If you're heading to an event, just make sure you book before midnight.
Bear in mind if you're heading to Cineworld, you'll automatically get four hours free in a couple of our car parks. More spare cash for popcorn, we say.
4. How not to get lost
Maps are pretty boring and sensible, but they could save you heaps of time when you arrive at the tent. Download this handy map of the venue and you could seriously reduce your downtime. It's colour coded and lists all the bars, restaurants, shops and entertainment spaces in the venue so you can avoid wandering around like a headless chicken.
5. Get there early (or on time at least!)
Once you've settled on what to do when you arrive, it's time for the truly exciting task of deciding how you're going to get here. We recommend planning your journey with TFL before leaving home – these guys are in the know when it comes to London's travel-related issues. There's even an app for you to download if you're a hardcore planner.