5 Of The BEST Exhibits At STAR WARS Identities [3 mins]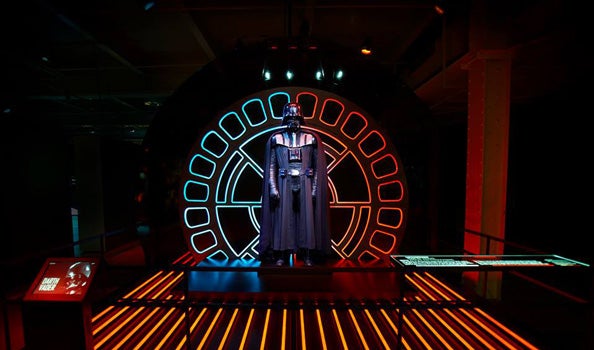 20 Dec 2016
5 Of The BEST Exhibits At STAR WARS Identities [3 mins]
STAR WARS Identities is the ultimate exhibition for fans – but which exhibits are gonna BLOW YOUR MIND? Here are our top picks...
Yoda
Seen an exhibit like this before, you have not... Yoda is here, all 66cm (2'2") of him.
The puppet on display at The O2's STAR WARS Identities was first used by Frank Oz on The Empire Strikes Back in 1980. And when you see it in the flesh, it's impossible not to picture the iconic Dagobah swamp scene, the Grand Jedi Master's tussle with R2-D2 and eventual training of Luke Skywalker.
If that's not enough Yoda for you, there's also a brilliant section devoted to the design of the character - from the early stages, where he looked more like an elf, first called Buffy, then Minch, through to the unmistakable green hero we've all grown up with.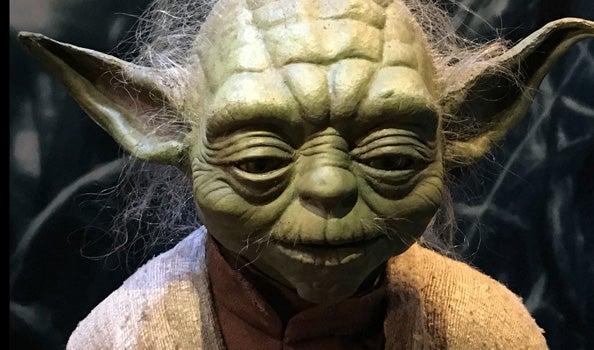 The Identities
Many exhibitions feel as if they've bolted on any storytelling as an afterthought. But STAR WARS Identities was built from the ground up, with the theme at its core.
As you wander around, there are parallels between characters you may never have realised before. The interactive element also means that, based on your choices and judgement, you'll emerge from the experience with your own character, unique to you. Educational AND fun. What more could you want?!
Boba Fett
All the droids you're looking for are here – C3-PO, R2-D2, BB-8 and numerous others – plus costumes worn by Han, Leia and Luke, to name just three. But there's something about ruthless, almost silent bounty hunter Boba Fett really that grabs us.
He only fleetingly appears in Empire, shares a bit more screen time in Return Of The Jedi – and as a child in the prequel trilogy – but he's consistently named one of our favourite characters in the Star Wars universe. Here, you can get up close and really take in the details of that Mandalorian armour.
Darth Vader
What is it about baddies? And talk about saving the best til last! Nestled away toward the very end of the exhibition, one of the most iconic villains in all of cinema, Emperor Palpatine's Sith apprentice steals every scene he's part of. Seeing his costume at almost 7ft tall - and that fearsome mask - will help you understand just how he manages it.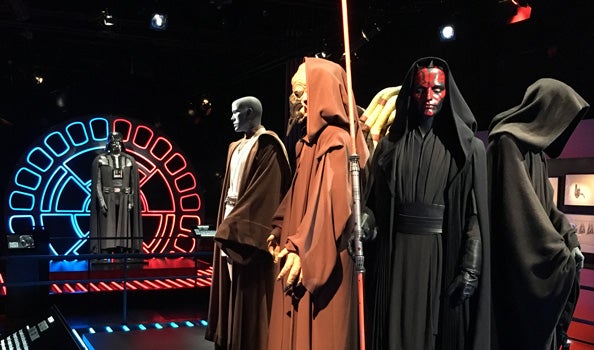 The Models
The X-Wing, Super Star Destroyer, Imperial Shuttle, AT-AT and the menacing TIE Fighter are all on display here, in a cabinet that looks like the dream bedroom of many a child. They're the EXACT ones used by George Lucas and his army of boffins at Industrial Light & Magic when filming the original trilogy. It's hard not to feel the force and be amazed at just how dramatic and enormous they look on screen. Impressive. Most impressive.