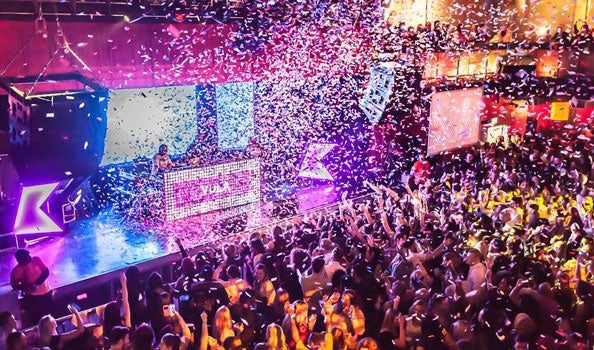 30 Aug 2016
5 Of The World's Most EPIC Nightclubs
As any party animal will know, there's nothing more likely to put a dampener on your evening than a crap nightclub. Where the beats aren't dropping and the DJ ain't mixing – it's enough to make you want an early night.
The good news is there are loads of clubs around the world that will leave you dancing till dawn. You might have to travel a few miles (read: hundreds!) to get to some of them, but you won't be disappointed. Glow sticks at the ready…
1. Pacha, Ibiza
What better place to kick off our round-the-world journey than party paradise Ibiza? In DJ Magazine's 2016 list of the Top 100 Nightclubs, Pacha came in at a respectable fourth.
Pacha has welcomed the crème de la crème of DJs since its launch in the 1970s, with Pete Tong hosting a four-year residency from 2003 to 2007.
If you do make it to Ibiza, be prepared to party into the small hours, especially if @PioneerDJglobal has anything to do with it.
6am at Pacha, Ibiza with @martinsolveig #ibiza pic.twitter.com/wKhbEeky78

— Pioneer DJ (@PioneerDJglobal) August 11, 2016
2. Green Valley, Brazil
If you've ever had an overwhelming urge to party in a rainforest, Green Valley is the place for you. There's even a lake inside. A LAKE!
Green Valley's main room has a capacity of 6,000 and the light show is meant to be out of this world. Big-name DJs are literally queuing up to perform there. DJ Fatboy Slim is one of the lucky ones (not as lucky as playing The O2 this December though, obv). It is definitely bucket list worthy, @jack_wagg1.
Green Valley in Brazil is definitely on the bucket list 👀 pic.twitter.com/MI2D3kA4VU

— Jack (@jack_wagg1) May 23, 201
3. Building Six, London
Looking for an epic nightclub experience right here in London? Building Six at The O2 is guaranteed to give you a night you'll remember (or not, depending on the number of drinks you have).
It's spread over three massive floors and, thanks to a Body Kinetic dance floor, which reacts to bass frequency and pumps music through your body, you'll NEVER miss a beat - unless you need a toilet stop.
There's an outdoor terrace for amazing views of London and heaters to keep off the chill – not that you'll need them, what with all the DANCING, hey @amyknoll_?
4. Zouk, Singapore
People travel for miles to party the night away at Zouk – and with good reason. It's home to no fewer than five clubs, so there's absolutely no chance you'll get bored.
Rave the night away in Phuture, complete with LED wall and awesome sound system, or head to the Zouk room with its multilevel dance floor and numerous bars. We want to Zouk Out, @ZoukOutOfficial!
Wanna know more about our headliners - Zedd &Hardwell, for ZoukOut 2016? Us too! Read: https://t.co/mrPwBxUpPQ pic.twitter.com/EeBEQAv4ta

— ZoukOut - Official (@ZoukOutOfficial) August 8, 2016
5. Marquee, Las Vegas
We've seen The Hangover, so know what potential Vegas has when it comes to an unforgettable night out – and Marquee is just the place to do it. Complete with a gaming area and more bars than you can shake a glow stick at, it spans 60,000 square feet and is open both day and night. So the partying potential is ENDLESS!
DJs to take to the decks have included David Guetta, Cosmic Gate and Joachim Garraud, who's known for joining forces with Jean-Michel Jarre.
Make sure you have your bikinis and budgie smugglers at the ready, as there are two pools, as @mbird06 and co. found out.