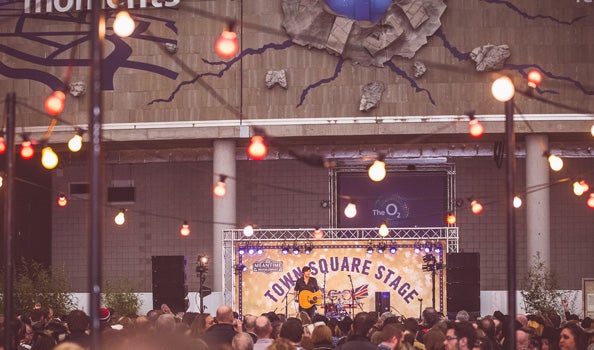 20 Jan 2017
5 Reasons The O2 Is THE Best Festival Venue [3 mins]
We might be well known for hosting amazing gigs, but did you know we're also the hottest place for festivals? Yes, that's right - from country superstars to the big guns of blues, we've hosted them all under the tent.
So, what is it that makes us THE best festival venue in the UK (or if we were really gloating, the entire planet?) Here are just a few reasons…
1. We're with you, whatever the weather
Whilst most festivals are held outdoors, we've got plenty of room to host a festival – INDOORS! So it doesn't matter what the great British weather has in store, you'll always be dry and warm under our tent. Put those brollies and wellies away, guys!
2. 20,000 party people - in one room!
We're probably best known for The O2 arena, which has the capacity to hold a whopping 20,000 people. So, not only can you be part of an epic crowd to see the headliners, there's still plenty of space to stretch your legs.
3. HOW many stages?!
The O2 arena might be huuuuuuuge, but did you know we've also got various other venues under the tent? From our truly awesome nightclub Building Six to the 2,800-person capacity of indigo at The O2, we've got it covered.
Make sure you take a good look at the performance schedule whenever you come to a festival at our place. You might be surprised at just how many venues we have for you to explore…
4. Just hop on the Tube, bus, boat…
One of the most difficult parts of any festival is getting there. Sitting on a crowded coach as it transports you to the middle of a field might not be for everyone, which is another reason we're ahead of the game.
Getting to The O2 couldn't be easier. Take the London Underground to North Greenwich and you'll be right on our doorstep. We're also well-connected by local bus routes and even the MBNA Thames Clippers River Bus Express, or, if you're feeling particularly energetic, you could even cycle - we've got 500 cycle racks for you to use.
If you do decide to travel by car, remember to pre-book your parking for ultimate convenience. What could be easier than that?
5. More genres than you can shake a stick at
Any good festival venue should be open to a whole host of different acts - and that's something we're pretty good at here at The O2.
From listening to classic rock and seeing rare film screenings at Stone Free Festival, to rocking with the hottest country stars at The C2C Festival, you might be surprised at just how much we've got going on.
Keep your eyes peeled for a whole host of festival fun in 2017 - we'll see you down here!