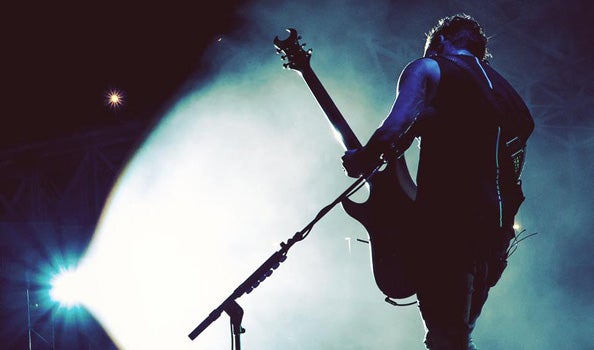 4 Jan 2017
5 Times The O2 Rocked Out! [3 mins]
When it comes to rocking out, it's safe to say nowhere does it quite like The O2. We've staged some of the BIGGEST bands and GREATEST gigs of the last decade. And that's only set to continue in 2017 – starting with metal legends Avenged Sevenfold on 21-22 January. Now, to celebrate, here's our pick of the rock royalty who have already graced our venue…
Bon Jovi
The Livin' On A Prayer superstars are firm favourites here. Not only were they the first band to play the venue but then, in 2010, they held an incredible 12-night residency, performing to more than 180,000 people. The highlight? When the New Jersey three-piece launched the run – by playing a four-song set on the roof. WOW!
Metallica
When the self-proclaimed biggest band in metal returned to the UK in 2008 after a five year absence, there was only ever going to be one place they played: The O2, of course. And talk about a bargain – the Master Of Puppets superstars charged a special price of just £5 a ticket for their 18,000 adoring fans.
Iron Maiden
When the mighty Maiden played The O2 in 2013, the entire gig sold out in just 12 minutes. And no wonder! With light shows, pyro effects and a skeleton with laser eyes – not to mention the music – this was a show to behold. The good news? They're playing again on 27-28 May, 2017.
We get the feeling @WhoElseButWizZ might be looking forward to it…
can't wait for this! it will be my 3rd time seeing them at the O2 :S #IronMaiden #heavymetal #rock https://t.co/7JIGAg8bBN

— WhoElseButWizZ (@WhoElseButWizZ) 10 October 2016
Bring Me The Horizon
Slick, swaggering and seriously LOUD, rock shows simply don't get much more mind-blowing than when Oli Sykes's crew played The O2 on Halloween this year. It may have been the sextet's biggest ever London gig but, dressed all in black and with a bank of big screens behind them, they looked – and sounded – like they were born to play the place. Heavy!
U2
Not many bands could play our place – capacity 20,000 – and call it one of their more intimate shows. But for U2, who have spent 20 years selling out the planet's biggest stadiums, their 2015 gig here could almost be considered a cosy affair. Cosy but brilliant, as @ChestyLaRoux87 found out...
And some to come…
If you thought those were some of the biggest rock and pop legends on the planet, well, you'd be right. But there are plenty more to come in 2017, including Black Sabbath (29 to 31 January), Green Day (8 February), Kaiser Chiefs (1 March), Kiss (31 May) and Blink-182 (19 to 20 July). Phew! Not bad, even if we do say so ourselves!