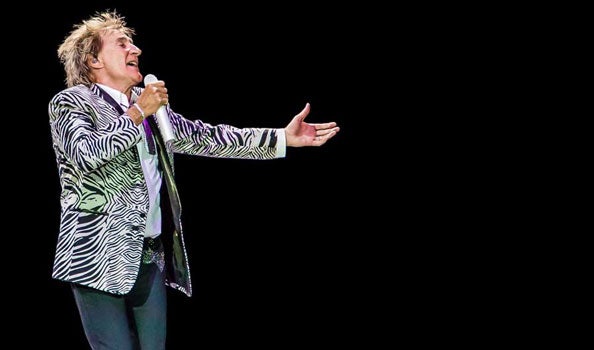 2 Sep 2016
5 Unlikely Heart-throbs We ALL Secretly LOVE
It's often been said he has a face only a mother could love – yet Rod Stewart has never been short of a stunning lady on his arm. Among his exes are A-list movie stars like Britt Ekland and supermodels such as Rachel Hunter. And the current Mrs Stewart, Penny Lancaster, is 26 years his junior. He must have some serious charm!
But Sir Rod - who plays The O2 in November – isn't the only unlikely sex symbol in showbiz. Here are five more stars who prove that when it comes to attraction, beauty really is on the inside…
1. Mick Jagger
It appears Mick Jagger can't get no satisfaction when it comes to finding a woman. He's currently expecting his eighth child at the age of 73 and has had more girlfriends than most of us have had hot dinners.
Maybe it's Jagger's amazing sense of style and legendary dance moves that make him so irresistible? There must be some reason why Maroon 5 named a song after him…
2. Paul Hollywood
The Great British Bake Off's silver-haired stallion makes women everywhere go weak at the knees. His piercing blue stare and inspired innuendos have gained legions of female fans – and no doubt a few male ones, too.
In fact, he's got some guys fearing for their own relationships, right @MarcuswheelerSB?
Scared my girlfriend is gonna run off with Paul Hollywood and get fat munching on his fancy breads and pastries without me

— Marcus Wheeler (@MarcuswheelerSB) August 24, 2016
3. Gordon Ramsay
Carrying on the foodie theme is our next entry – Gordon Ramsay. His no-nonsense attitude and love of the F word have women on both sides of the Atlantic praying for the next kitchen nightmare.
We're right there with ya, @Driffdon…
Is it wrong that i fancy the arse off @GordonRamsay when he gets all stern & F's & blinds over the state of hotel food in #Ramseyshotelhell

— Donna Dyble (@Driffdon) July 14, 2016
4. Simon Pegg
Red-haired, vertically challenged; he's the kind of plain Jim you probably wouldn't even clock walking down the street. Simon Pegg might not be your traditional Hollywood A-lister, but he's starred in some of the biggest movies around (Star Trek and Mission: Impossible, anyone?), and won his way into our hearts as an adorable secret crush.
Let's throwback to his old TV comedy sketch show to remember how much we love him. Thanks for the share @Mica_D.
#BigTrain @simonpegg as I've never seen him before! Loving Big Train also- first time watching 😱 pic.twitter.com/oBp7g3ab3V

— Mica Day (@Mica_D) August 16, 2016
5. Mick Hucknall
The Simply Red frontman was once described as 'really ugly' by Simon Cowell, and Hucknall himself has claimed to have 'absolutely no social skills'. But there's just something swoony about his molten tones and fiery locks. We feel ya @KatieBlondeL, nothing to be ashamed of.
When I was 6, I was in love with Mick Hucknall. I'm not ashamed of that.

— Katie-Louise (@KatieBlondeL) July 15, 2015