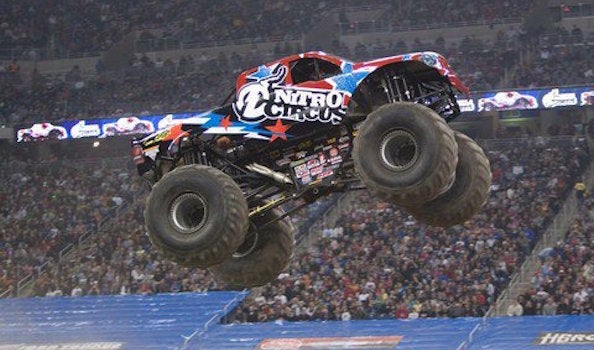 15 Dec 2015
5 Reasons Why Nitro Circus Will Blow Your Mind
The most explosive live show in all of action sports is coming to The O2 in February, and for fans around the UK, it can't come soon enough. @JakeAntony5 is already sounding very, very excited: 'I know it's a long time away but can't wait for nitro circus in the uk at the O2 arena it's going to be insane @NitroCircus.'
I know it's a long time away but can't wait for nitro circus in the uk at the O2 arena it's going to be insane @NitroCircus

— Jake Antony (@JakeAntony5) August 18, 2015
If you've never seen a Nitro Circus Live event before, here are five reasons why your jaw will hit the floor…
They're the best of the best
Travis Pastrana and co. are easily the greatest team of FMX and BMX riders ever assembled, with an arsenal of mind-boggling tricks – and the world records, X games gold medals and individual accolades – to prove it.
World firsts happen all the time
Make no mistake, the guys and gals of Nitro Circus aren't just playing it safe or going through the motions – they're pushing each other to the limit and beyond every night. Don't believe us? Check out the long list of world firsts that have taken place at Nitro Circus events, including the BMX special flip, the FMX side-by-side double grab backflip and the wheelchair frontflip. Could another piece of action sports history be made at The O2?
They've got the most insane ramp you've ever seen
The centerpiece of the Nitro Circus is a ludicrously large 50-foot monster known as the 'Gigant-A-Ramp', and all the YouTube clips in the world won't prepare you for the awe-inspiring site of human beings courageously propelling themselves off it in real life.
The girls kick ass
Jolene Van Vugt (FMX) and Lyn-Z Pastrana (skateboard) are the fearless females giving the boys a run for their money on the Nitro tour, often going as big (if not bigger) with the same tricks. Awesome.
Things get pretty wacky
We love the fact that Nitro Circus Live is taking action sports to the next level with groundbreaking tricks. But we're also total suckers for the more madcap side of the show, which features all manner of ridiculous apparatus (including lazy boy couches, bathtubs, rocking horses, boogie boards, razor scooters and Barbie cars) being launched where they don't belong – 30 feet up in the air. Weird and wonderful fun for all the family.