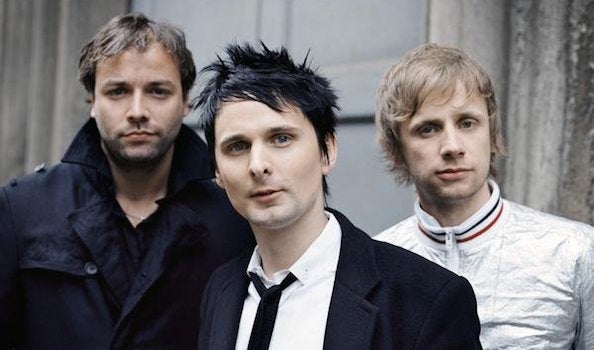 8 Feb 2016
5 Times Muse Proved They Are THE Kings Of Live Shows
Muse are, arguably, one of the true great remaining British rock bands. As trends have given way to the influence and popularity of hip hop and electronic music, rock has taken a back seat – with challengers like Royal Blood few and far between.
Luckily, Bellamy, Wolstenholme and Howard are still going strong and have made a name for themselves as one of the most exciting and unpredictable live acts in the music world today.
Here are just some of the reasons why they're bona fide rock gods….
The time that acrobats floated above the crowd at Wembley stadium
Gotta start off with a banger, and this really was a highlight of their massive 2007 show. The entire set was a high-budget extravaganza, with literally thousands of lights, dozens of screens, antennas and satellite dishes. During a performance of Blackout from their 2003 album, Absolution, two acrobats appeared above the audience on giant white balls, and performed a sky-high dance during the song. Blackout isn't even one of their most famous songs, but it's this kind of attention to detail that makes them so good live!
The time they chose their set list with a humongous roulette wheel
When you've been going as long as Muse, you end up with a pretty hefty back catalogue of music to choose from. Luckily, for their tour of The 2nd Law, they came up with a novel way of choosing tunes – and it worked! A ball would drop into the giant roulette wheel and choose between Stockholm Syndrome or New Born, and hey-presto, they'd launch into it. The experience really gave the show an extra buzz of excitement, and made each night pretty unique!
The time that Bellamy brought The Edge on stage to play an absolute classic…
Fans were devastated U2 had to pull out of headlining Glastonbury 2010 due to Bono's back injury. It seemed bleak until Muse stepped up to fill the gap – and everyone was delighted. He could have kept the glory for himself and his amazing bandmates, but no – instead Bellamy decided to give a little, and invited U2 guitarist The Edge on stage for a completely unique and spine-tingling rendition of Where The Streets Have No Name. It's really one of those 'once in a lifetime' moments, and also kinda makes us think the boys are pretty good guys, too.
The time Bellamy wore an LED suit
The 2009 Resistance tour really pushed live performance visual effects to the limit. Although the 1984 theme running through the huge projector pyramid was amazing, it was actually Bellamy's lit-up LED suit that he wore, while playing guitar like a madman, that really took the biscuit. Oh, and also a massive life-size UFO was floating above the audience at this point. Forgot to mention that. @mattrashcroft nearly missed it though… 'We were about to leave because the concert had ended, and then Matt Bellamy came on with an LED suit. It rocked' – thank heavens you stayed!
@GavvieUK @muse We were about to leave because the concert had ended, and then Matt Bellamy came on with an LED suit. It rocked.

— Matthew R. Ashcroft (@mattrashcroft) June 7, 2012
That time in the very near future where they'll fly drones over the audience…
Yep, we've heard the same rumours as you. In Muse's upcoming Drones tour – stopping by in April for a string of dates at The O2 – apparently they actually fly drones over the audience! We don't exactly know in what context, yet, but with the exciting 360-degree view, from a middle-of-the-arena circular stage, we have a feeling that it's going to be one of their most epic live performances yet.
So, what are you waiting for!? As @blissfuIfiction puts it, 'I urge everyone to see Muse at least once live before they die. They're unbelievable' – we couldn't have said it better ourselves.
I urge everyone to see Muse at least once live before they die. They're unbelievable.

— forameus (@blissfuIfiction) November 9, 2015