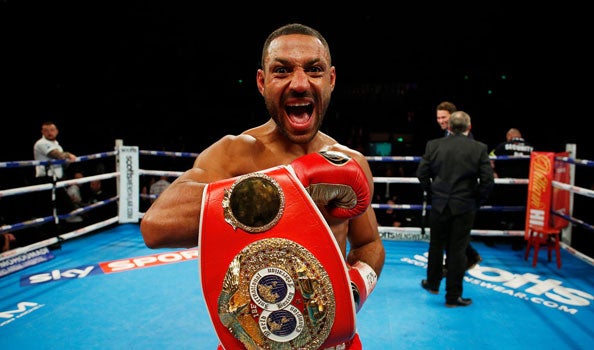 31 Aug 2016
6 Of The Greatest Undefeated Boxers EVER
We're counting the days until two of the best boxers on the planet enter the ring at The O2. In fact, Kell Brook's mouth-watering middleweight clash with Gennady Golovkin has got us reminiscing about some of the most incredible boxers ever to walk the planet.
So we thought what better time to run down some of the greatest undefeated champs in boxing history. Ding ding!
Round One: László Papp
Although Papp's boxing career might have been relatively short, boy did he make the most of it! He turned professional late in his career, after spending his early years winning Olympic golds – three, to be precise.
One hitch in Papp's career meant he couldn't fight overseas. Why, you ask? The Hungarian government refused to let him compete outside the country. Spoil sports!
Papp finished his career with 27 wins, 15 KOs and a sense of what might have been.
@BoxingLegendsTV certainly gives him the credit he deserves.
Yes thats true, Laszlo Papp might be the best tho, 3 Olympic Gold Medals and retired undefeated as a pro. https://t.co/iKwO7IP0Jc

— Boxing Legends TV (@BoxingLegendsTV) August 5, 2016
Round Two: Ricardo López
Mexican López couldn't make his mind up between strawweight and flyweight throughout his career. It didn't really matter, as he conquered the best in the world at both levels.
In fact, most boxing fans think of him as the greatest strawweight champion in history – not bad going considering he retired in 2002!
López held the world title for nine years back in the 90s, but a draw with Rosendo Álvarez spoiled his perfect record. Fear not, because López beat him in the rematch for good measure. We like his style!
Round Three: Edwin Valero
Valero is one of Venezuela's best sporting exports, known for the explosive way he ended fights. He remains the only boxer in the history of the sport to have a 100%, yes 100%, knockout record in 25 fights or more. We certainly wouldn't mess with him!
Round Four: Joe Calzaghe
Joe Calzaghe's boxing record is even more impressive than his list of nicknames; The Pride of Wales and The Italian Dragon, to name but two.
He fought Chris Eubank for the world super-middleweight title in 1997 and stayed at the top of his game until retiring in 2009.
Fellow boxer Ricky Hatton called him "the best British fighter we've ever had" – and who are we to argue? @Red_Pennycook reckons Calzaghe's birthday might have something to do with his success…
All born on 23rd of March
Jason Kenny 🎖🎖🎖🎖🎖🎖
Chris Hoy🎖🎖🎖🎖🎖🎖
Mo Farah🎖🎖🎖(?)
Steve Redgrave🎖🎖🎖🎖🎖
Joe Calzaghe 👑
Roger Bannister🏃🏻 💨

— RedfordPennycook (@Red_Pennycook) August 17, 2016
Round Five: Rocky Marciano
We couldn't do a countdown of boxers without one called Rocky, could we? Marciano made a name all for himself long before Sly Stallone's films came along.
One of the defining moments of Marciano's career was when he took on former heavyweight champion Joe Louis. Naturally, Marciano came out on top but was reportedly so distraught at beating his hero he cried in Louis' dressing room. And they say big boys don't cry!
Round Six: Floyd Mayweather
You'll probably know him as Money on account of his love for fast cars and expensive, well, everything, but Mayweather was a damn good boxer, too.
He modestly models himself as TBE (The Best Ever), but also has the stats to prove it. Mayweather finished his career with 49 wins, level with Marciano - and speculation has raged ever since about whether he'll don the gloves once more to make it 50.
Mayweather's latest retirement venture is one that's turned a few heads. He's brought out a line of cosmetics…