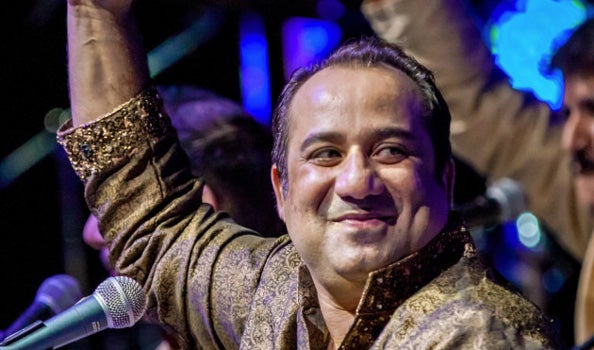 22 July 2016
6 Reasons You MUST LOVE Ustad Rahat Fateh Ali Khan
Ustad Rahat Fateh Ali Khan – or RFAK as he's affectionately known - is one of Pakistan's greatest musical exports. He's taken both Lollywood and Bollywood by storm and has made a name for himself as one of the greatest qawwali singers of all time.
So if you've never heard of him, it's time to brush up your knowledge as the legend prepares to bring his Greatest Hits tour to the tent.

1. He's no stranger to selling out The O2
There have been a fair few acts (read: loads!) who've sold out The O2 arena over the years, but did you know RFAK is one of them?
He came to the UK in 2013 and fans just couldn't wait to snap up tickets – in fact, his entire UK tour sold out. If that isn't good enough reason to get yourself down here for his show on 14 August, we don't know what is.

2. Musical talent runs in his family
America has The Osmonds and we have *ahem* The Nolans, but in Pakistan, it's all about the Ali Khans.
Khan has a famous grandfather, father and uncle, all of whom have made their mark on the country's culture over the past few decades. Awesome musical genes if ever we've seen them.

3. He's featured on a host of movie soundtracks
If you're a film buff, there's a good chance you've heard one of Khan's songs - whether you realise it or not. He's worked on a fair few blockbusters, including Mel Gibson's 2006 flick Apocalypto, and Dead Man Walking, which starred Sean Penn and Susan Sarandon.
His standout moment came when he collaborated with the late James Horner (of Titanic score fame) on action drama The Four Feathers, which featured the late Heath Ledger.

4. He's got more awards than you can imagine
We can only guess the size of Khan's trophy cabinet with awards coming out of his ears. Most recently he was named best male singer at the 2016 ARY Film Awards for his song Surror De, which featured in the film Halla Gulla.
He's always been a hit at the UK Asian Music Awards, including winning international artist of the decade in 2012. He scooped the most gongs at the ceremony that year, including best-selling download and best international act.

5. He's the king of social media
Imagine if you had 6.5 million Facebook followers. All those people looking at your holiday snaps and finding out what you had for breakfast – well, for Khan, it's not something he has to dream about. He's a Facebook sensation and his fans love him for it.
His video for the song Zaroori Tha has had a mere 100 million views on YouTube since its release in 2014. It's also helping him reach a whole new fan base, as @monster_soup recently discovered.
There's so much great music in the world and I know nothing about it. This has 100 million views on yt! https://t.co/e3NQFFFO5V

— georgina bruce (@monster_soup) July 11, 2016

6. He took the Nobel Peace Prize by storm
The Nobel Peace Prize was a pretty big deal for Pakistan in 2014. Not only did the awe-inspiring education activist Malala Yousafzai become one of the youngest recipients of the laureate, Khan was also invited to perform at the ceremony.
It was the first time a Pakistani had taken to the stage at the event. What a day!