Home
7 Career-Defining Awards Given Out At The O2 Arena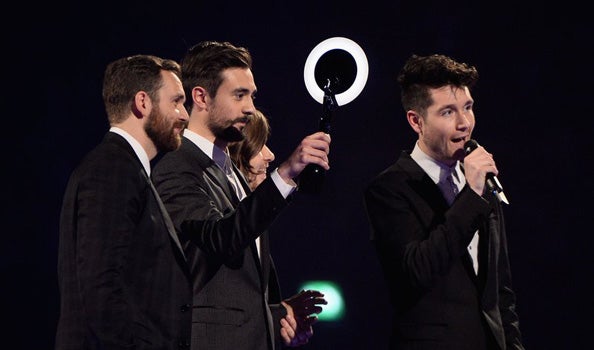 4 July 2016
7 Career-Defining Awards Given Out At The O2 Arena
The O2 has been host to some of the most momentous accolades, tributes and speeches in music and TV. The BRITS, MOBOs and National Television Awards have all been held on the arena stage, so we thought we'd revisit some of the biggest and best wins that would become career highlights for some of the UK's biggest stars.
Ed Sheeran
Ed Sheeran's won a whopping 50 awards since taking the music industry by storm with The A Team in 2011, and he won his first back in 2012 right here at The O2. He took home two BRIT Awards for 'British Breakthrough Act' and 'British Solo Male Artist'. Happy to help, Ed!
Adele
Adele called the 2011 BRIT Awards the 'most life-changing night of my life', after giving a spellbinding performance of 'Someone Like You' at The O2 arena. It sent the single flying 46 places in the UK chart to number 1. Adele's gone on to win a load of BRITs since then, and became the 'most successful artist in one year' when she took home FOUR awards in 2016
Emeli Sandé
When newcomer Emeli Sandé scooped up the Critics' Choice Award in 2012, she gushed: 'To win a BRIT Award so early in my career is beyond a dream come true!' Her debut album went straight to number one that week, and she's since sung at the Olympics, won 15 more awards and headlined at the Royal Albert Hall. All in a day's work, eh Emeli?
Sheridan Smith
Beating out Dame Maggie Smith for the 2015 Best Drama Performance award had to be a career highlight for Sheridan Smith! She nabbed the spot for her role in Cilla, but missed her big moment at The O2 because she was stuck in traffic. 'My mum's livid, because she wanted to be on camera with me reacting', Sheridan revealed.
David Tenant
David Tennant could barely speak after receiving the Special Recognition trophy at the 2015 National Television Awards at The O2. He'd come full circle since winning his first ever TV award back in 2006 at the NTAs for Best Actor. No wonder he was a tad emotional.
Bastille
Indie rising stars Bastille (who've just announced their 2016 headline tour) won their first award two year ago at The O2: the BRIT for British Breakthrough Act. Totally gobsmacked by the win, they announced 'now we can retire and give up music'. Not until you've played The O2 in November please, guys.
Amy Winehouse
The inimitable Amy Winehouse picked up her first MOBO here at The O2 in 2007, for Best UK Female. She won an award at another ceremony that same night, but sent her local pub landlord to collect the trophy, choosing to perform at the MOBOs instead.
Don't fret if you weren't at The O2 to catch these big award moments, there are plenty more to come. The Drum & Bass Awards 2016 are coming our way this month, and tickets for next year's National Television Awards are already on sale now. We can't tell you who's going to win, but there'll definitely be some incredible live performances that you won't want to miss.