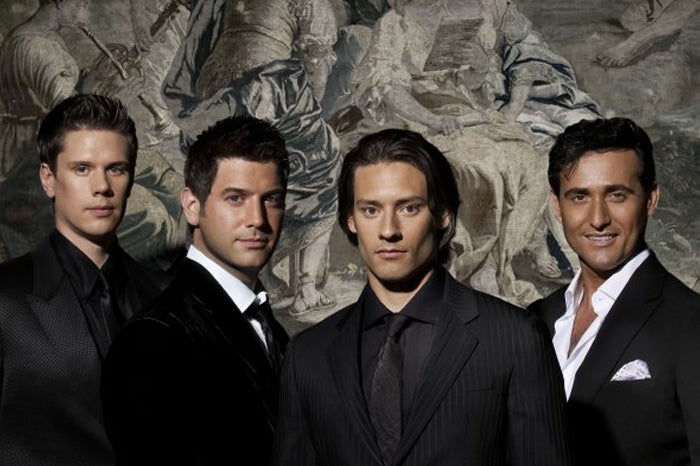 19 Mar 2016
7 Songs With Utterly Mind-Blowing Harmonies
Vocal harmonies are the best

— Uncle Slam (@TheGimpyLeg) February 19, 2016
Says @TheGimpyLeg, and we are inclined to agree with him. Whether it's a classic from the '60s or a modern day spine-tingler, there's just something about a perfectly pitched harmony that makes us go a bit giddy. To celebrate Il Divo (the undisputed kings of harmony) playing The O2 in May we took a look at some of the best songs in history to feature incredible vocal talents.
Beach Boys – I Get Around
The Beach Boys are one of the greatest family pop groups of all time, with a career spanning over five decades. Vocal harmonies are kind of like their USP, and I Get Around is one of the many tracks which flaunts them at their finest. Warning: if you try and separate out the harmonies as you're listening your head might actually explode.
Queen – Bohemian Rhapsody
Perhaps the most famous songs ever written, Queen's Bohemian Rhapsody has it all: rocking guitar, an excellent storyline and it's SIX MINUTES LONG! It also has a wealth of harmony sing-a-longs to attempt with your friends a la Wayne's World, as well as plentiful air guitar and drumming opportunities.
Il Divo – Time To Say Goodbye
Not many acts have been able to bring classical and opera music into the charts but Il Divo are an exception to that rule, and we're not just letting their amazing tailoring take the credit for that either. Taking on classical hits and giving them a suave and sophisticated makeover is what these guys do best, and we can't wait to hear those stunning vocal harmonies when they play The O2!
Boyz II Men – End of the Road
Well, we couldn't NOT feature this; the ultimate love ballad, and perfect karaoke choice. Boyz II Men were renowned for their impeccable vocal talents and End Of The Road, in particular, lets those soothing harmonies shine. Or,
Boyz II Men. Vocal harmonies tighter than compression shorts. https://t.co/qiflGldkjy

— Alona pls (@HighKeyMedusa) February 19, 2016
Well, that's one way to describe them.
Mumford and Sons – I Will Wait
It's not always boy bands who nail their harmonies; occasionally a group come together and introduce us to a whole new way of thinking about voices coming together in song. Mumford and Sons combine country-influenced folk-pop music, with banjos, double basses and a four-part male harmony, which will certainly send a shiver or two down your spine.
The Beatles – Don't Let Me Down
There's a reason that The Beatles' music broke so many world records and saw them gain worldwide success. Not only did they have a penchant for writing the perfect bluesy-pop song, but their vocal harmonies were always pitch perfect. Don't Let Me Down is a great example. It's a track that sees the Lennon-McCartney harmony sound effortlessly cool against their idiosyncratic sound.
The Lumineers – Hey Ho
In a similar vein to that of Mumford and Sons, The Lumineers brought folk music into the mainstream with their huge hit Hey Ho. Boasting their impressive vocal work as a group, as well as injecting a much-needed dose of summery vibes, it's no wonder that the song, and the band, became such a success.