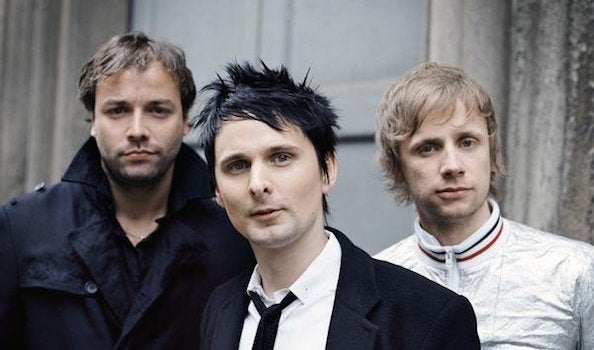 5 Apr 2016
8 Bands Who've Truly Stood The Test Of Time
In our culture of music streaming and playlists, the stigma of the "One Hit Wonder" has ceased to be a blight on a musician's career. Successful albums and singles in isolation have become the norm, but through the endless hits, there are some bands who always manage to get the balance just right.
They change with the times, and continue to make music that people really want to spend time with, but their identity and unique style stays with them through the years.
Here are some of the rare, brilliant bands, who we can really say with confidence, are timeless.
Muse
British rock trio Muse have been bringing their unique songwriting style to the world since '94. It's hard to believe that it's been 17 years, purely because they've been so prolific, and their music is still so full of surprises. From frontman Matt Bellamy's idiosyncratic falsetto vocals, to Dom the drummer's imaginative percussion ideas (they recorded their drums in a swimming pool, once) this is one band that's always going to push the limits – and we're literally counting the days before they begin a 13 night run at The O2 between 3-15 April. Here's hoping their OTT guitar solos and epic live performances continue for many years to come because, as @_PrettyAlien says, 'Digging through Muse's old songs. They never get old.'
Digging through Muse's old songs. They never get old.

— Hanan (@_PrettyAlien) January 28, 2016
The Rolling Stones
This iconic band might actually be immortal – and we're not just talking about their corporeal forms (although there are definitely rumours). In the '60s Mick Jagger, Ronnie Wood, Keith Richards and Charlie Watts tore up the music scene and redefined so many genres. It's scary to think just how many bands wouldn't exist if the Stones' particular brand of soulful, unpolished rock hadn't become such an influential global success…
Fleetwood Mac
The Fleetwood Mac album Rumours is, without a doubt, one of the greatest albums ever created – a flawless work of art where every song is so different, and yet they all tie perfectly together. (Remember when albums were a thing?) @JackieWelch15 makes a very valid point when she says 'all of Fleetwood Mac's music is just so timeless'. It's true, though. Stevie Nicks, Lindsey Buckingham, Christine McVie and founding members Mick Fleetwood and John McVie created music that appeals to all ages, across all decades – which is probably why Fleetwood Mac are one of the most successful bands in history.
All of Fleetwood Mac's music is just so timeless

— Jacqueline Welch (@JackieWelch15) March 11, 2016
Radiohead
One of the most defining bands in modern music, good old Radiohead most certainly deserve their place on this list. Every album released by the Oxford-based band has transcended genres and pushed musical boundaries, making them truly unique. Starting off as a traditional rock band in the late-'80s and organically transforming into something more electronic and experimental is not a feat many bands can pull off. Plus, OK Computer. Enough said.
Coldplay
After winning Best British Group at this year's BRIT Awards – for the FOURTH time (just one of 62 awards and over 200 nominations throughout their career) – it's only natural to mention Coldplay here. Formed in 1996, the four-piece made an instant splash with their heart-melting brand of melodic guitar indie music. Girls all over the world fawned over Chris Martin's unassuming and humble frontman vibes, and soon they went from the touring hopefuls of the '90s to the internationally famed success they are today. Bring on more Beyoncé collaborations, boys!
Red Hot Chilli Peppers
It's been 33 years since RHCP formed in LA, and since their inception they've amassed a huge, loyal following and released ten incredibly successful studio albums. They're the epitome of sex, drugs and rock'n'roll – living life on the edge and creating a sound that brings together elements of prog rock, funk, rap and even metal. Plus, we've heard through the grapevine that there may be some original material on the cards for 2016. Keep your ears peeled…
The Who
You might only know them as "the band my Dad likes", but The Who are THE original rock band. All those clichés about bands smashing up guitars on stage and trashing hotel rooms? Well, these were the guys that made it cool. Despite battling some tragedies along the way (including the death of their beloved original drummer Keith Moon), Roger Daltrey and his bandmates have continued to make great rock music, and have hugely influenced the industry. They were the first band to popularise the use of synthesisers in rock music, don't you know!
Aerosmith
Power ballads wouldn't be a thing if it wasn't for Aerosmith, and their kooky blend of glam rock and blues have brought joy to so many generations over the years. The fact that their work, such as their collaboration with Run D-M-C, still sounds fresh and exciting today shows exactly how timeless their sound is. You don't get to be America's best selling hard-rock band of all time for no reason!