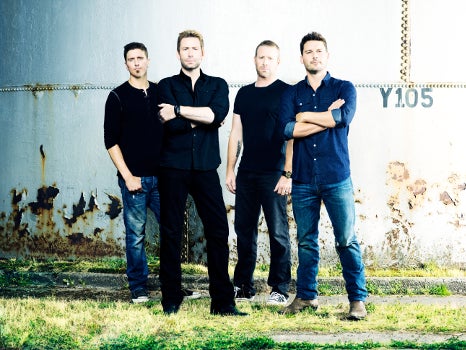 14 June 2016
8 Completely Brilliant Nickelback Moments
Nickelback have had an incredible career, from early days in Canada scraping together cash to make their first release, to chart-topping, record-breaking smashes such as Rockstar and How You Remind Me.
Ahead of their show at The O2 arena later this year, we cover the most awesome things the band have EVER done – EVER!
1. They used to be The Village Idiots
Let's face it, not many people are going to buy a T-shirt with The Village Idiots scrawled across the front or back. Thankfully, bassist Mike Kroeger realised the band needed a name that was more palatable – or at least wearable. He came up with Nickelback, harking back to his time working at Starbucks, when he'd often give customers five cents change. 'Here's your nickel back,' he'd say. It stuck, and it definitely looks better on posters.
2. How You Remind Me is one of the biggest hits of the CENTURY!
How You Remind Me catapulted Nickelback to global fame. It was inescapable on music TV, and became the most-played song of the decade on US radio, spun a mind-blowing 1.2 million times between 2001 and 2009. Not bad for a song it took Chad Kroeger 10 minutes to write! It was even nominated for a Grammy.
3. They owe it all to stepdad
Kroeger knew his band was onto something, but didn't have the money to get out there. So who better to ask, than your stepdad? Chad managed to scrounge a $4,000 loan, which covered the cost of the band's first demo, and the resulting EP landed them a record deal. They've since sold 50 million albums - we hope stepdad landed a good return on investment.
4. The Ban Nickelback petition
Back in 2014, one wise guy started an online petition to ban Nickelback from ever returning to play in London, appropriately titled Don't Let Nickel Back. The news was picked up around the world, but the best part was Kroeger's reaction – was he bothered, was he heck? 'I love it,' he said. 'It's hilarious!' He even credited the controversy with keeping the band alive. 'Without it, we probably would have died out years ago.'
5. He's a super Hero
While not strictly a Nickelback song, worldwide hit Hero saw Chad and Mike Kroeger team up with Saliva frontman Josey Scott. It featured on the 2002 soundtrack to one of the year's biggest films, Spider-Man, while the video was pretty epic too. The single went to number four in the UK, and one better in the US.
6. They opened for Bon Jovi
Speaking of heroes – imagine opening for all-time rock heroes Bon Jovi! That's exactly what Nickelback did when Bon Jovi embarked on their Have A Nice Day tour in 2006 (which also happened to be one of the highest-grossing tours ever). Nickelback were support act during the European leg and throughout parts of the USA. All good practice for Nickelback's forthcoming tour, when they'll perform in 30 cities across Europe.
7. Ding ding! Chad Kroeger vs. Deryck Whibley
Don't try beefin' with Chad Kroeger, as Sum 41's Deryck Whibley found out – much to his embarrassment. Back in 2012, Whibley and his partner went to a Halloween party dressed as Kroeger and his girlfriend Avril Lavigne. Worth pointing out at this point Lavigne is Whibley's ex-wife. Kroeger responded with this cheeky tweet. Zing!
Hey Deryck loved the costumes! we were going to dress up as you guys this year but all the parties had celebrity themes haha! -CK

— Nickelback (@Nickelback) 28 October 2012
8. He's not above making fun of himself
Nickelback are often cited on lists of bands people love to hate. Or in some cases, just hate. Not that Kroeger cares as the band's most-successful single, Rockstar, is about that very fact. It sold a whopping 4.5 million copies in the US alone, and reached number two in the UK. Say what you like about Chad Kroeger – and lots of people do – but never say he hasn't got a sense of humour - or millions of fans around the world, for that matter.