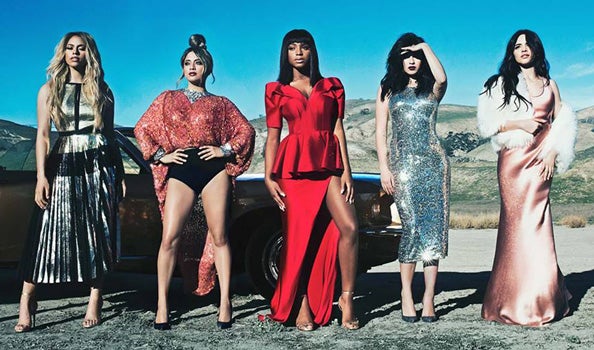 22 July 2016
8 Things You NEED To Know About Fifth Harmony Before They Hit The O2!
Their UK smash hit has brought a whole new meaning to working from home. And if you haven't seen the MoneySuperMarket ad where a man in hot pants and heels works it to Worth It, you must've been living in a cave. But what else do you need to know about Fifth Harmony before they bring their 7/27 world tour to The O2 this October? Aside from the fact tickets make a great birthday pressie, eh @Lauraquinn23?
1. Stranger danger!
Lauren, Camila, Dinah, Normani and Ally didn't even know each other before they were thrust together as a girl group on The X Factor USA in 2012. They auditioned as soloists, didn't make the cut, so clever Simon Cowell and fellow judge Demi Lovato thought it would be a grand idea to create this super-duper five-piece – hello, fame!
2. Winners, schwimmers
They've had two best-selling albums, a load of hit singles, and now have millions of followers on social media. Did we mention they didn't even WIN The X Factor? They came third. But has that stopped them? Has it heck!
3. What's in a name?
Fifth Harmony wasn't the first name for the group. They tried a couple of others before the public got to vote on one that stuck. They were first called LYLAs (Love You Like A Sister), but existing band The Lylas, consisting of four of Bruno Mars' sisters, were not impressed. The name 1432 (which stands for I Love You Too, apparently) got the thumbs down. And so the public got to decide on Fifth Harmony, which means, well, exactly what it sounds like.
4. A load of Harmos
Cheryl's got her soldiers, Little Mix have their Mixers, Justin's got his Beliebers and let's not forget the Directioners. Turns out Fifth Harmony super fans are fondly known as Harmonizers – or Harmos for short – and they include @Joanaa_Cheryl who's all set for the gig in October…

5. Tour de force
In their speedy rise to the top, Fifth Harmony have already toured with Cher Lloyd (she has her Brats, btw) on her I Wish Tour. They supported Demi Lovato's 2014 Neon Lights Tour and have shared bills with the likes of Kanye West, Katy Perry and Justin Bieber. Not bad to say they only got together four years ago!
6. Who needs a mic anyway?
They might be a young bunch - aged between 19 and 23 - but Fifth Harmony have already proved they are true pros. When their mics stopped working at a gig in Cardiff, they encouraged their fans to take over, including @5HCardiff.
Their mics stopped working so the crowd started singing louder. ft. Fifth harmony's awesome vocals! #727Tour pic.twitter.com/KAkxXsIbKV

— 5HCardiff (@5HCardiff) July 6, 2016
7. Taking on Queen Bey
Just to make doubly sure this girl group is going global, their album 7/27 smashed it over Beyoncé's Lemonade in this Twitter poll by @latimesent. And with Work From Home selling millions of records worldwide, it has made them one of the most successful acts to come out of The X Factor, EVER! Who runs the world?
From #Beyonce to #FifthHarmony, which pop album has been your favorite so far this year? https://t.co/6va3JZOPxZ

— LAT Entertainment (@latimesent) July 9, 2016
8. Cracking the whip
And when all else fails, they just know how to do an AMAZING hair whip. Whipping wonderful!
i whip my hair back and forth
i whip my hair back and forth pic.twitter.com/7bJtjPiqTe

— Fifth Harmony Gifs (@FithHarmonyGifs) 28 September 2014