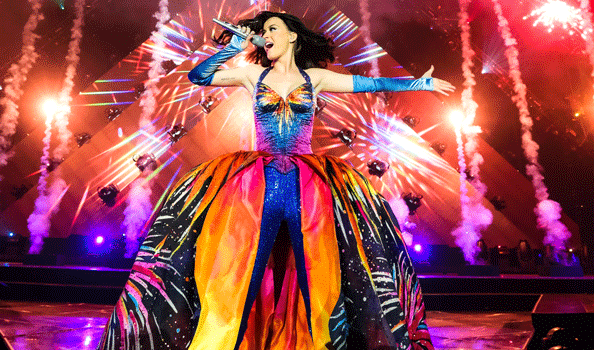 20 June 2016
9 Most Amazing Residencies To EVER Grace The O2
HAPPY birthday to The O2! We are thrilled to be celebrating our ninth birthday as one of the greatest entertainment venues on the planet! Since opening on 24 June 2007, some of the world's biggest superstars have performed here.
And so, we think it's only fitting to shout from the rooftop (or should that be tent-top?!) about the most amazing residencies to grace our much-loved stage. To mark the birthday milestone, we look at nine of the best...
1. Perfect Prince
Over a record-breaking 21 nights in August and September 2007, the late Purple Rain star performed to around 350,000 people. Particularly mind-blowing was no two shows were the same with different set lists, costumes and a different vibe every evening. What a legend!
2. One Direction, six amazing shows
Harry, Liam, Louis and Niall spent six stunning nights at The O2 in September last year – and fans are still raving about it now. Don't believe us? Just ask @CaaitlinAskewxx
Watching all the videos I have from when I saw @onedirection at the O2 last year, now I can't stop smiling☺️

— Caitlin Askew (@CaaitlinAskewxx) June 15, 2016
3. Take That's ten-night triumph
The boy band national treasures may have lost both Robbie and Jason by the time they played ten nights in June 2015 but Could It Be Magic? It could and it was! Highlights included all the hits, a flock of puppet doves and a three-man flying bicycle – as you do. For fans, it was Love Love.
4. Katy Perry brings dreams to life
The Californian I Kissed A Girl star performed four nights in May 2014, and super fan @MGC5SOS_ certainly enjoyed himself. The O2 - making dreams come true!
Meeting Kate perry yesterday was like a dream ;) I can't believe I went backstage at the o2 arena

— JB... (@MGC5SOS__) June 1, 2014
5. Bon Jovi rock the roof
New Jersey's finest rockers were the first band to play The O2 when it opened and they returned for a dozen dates in June 2010. More than 180,000 fans saw the Living On A Prayer legends but perhaps just as amazing was the way the three-piece launched the residency - by playing a four-song set on the roof of the venue. Rock on!
6. Bouncing back with Bey
When Beyoncé announced she was performing six nights at The O2 as part of a world tour in 2013, they sold out in just 15 minutes. Solution? She added another six for 2014. Towards the end of every show, she told the crowd, "Thank you for making such a beautiful sound." No, Bey - thank you.
7. Rolling back the years
With more than 40 years and countless hits, The Rolling Stones rarely disappoint while playing live. And during their three-date residency in August 2007, Mick Jagger and co gave fans plenty of – you guessed it – Satisfaction!
8. Nice and Spicy
Girl Power took over The O2 in December 2007 and January 2008 when the newly reformed Spice Girls played 17 nights. Sporty, Scary, Baby, Posh and Ginger treated fans to classic hits, new songs, solo material and cover versions, and also found time to bring their kids on stage. A nostalgia bonus too: Geri's famous Union Jack dress got an outing. Go girls!
9. The one's still to come…
If you thought those were some of the biggest names in rock and pop, well, you'd be right. But there are plenty more to come. Residencies at The O2 this year include Lionel Richie (2 to 6 July), Justin Bieber (11 October 11 to 29 November), Bring Me The Horizon (31 October to 5 November) and Rod Stewart (22 to 26 November). What a line up! Here's to the next nine years!