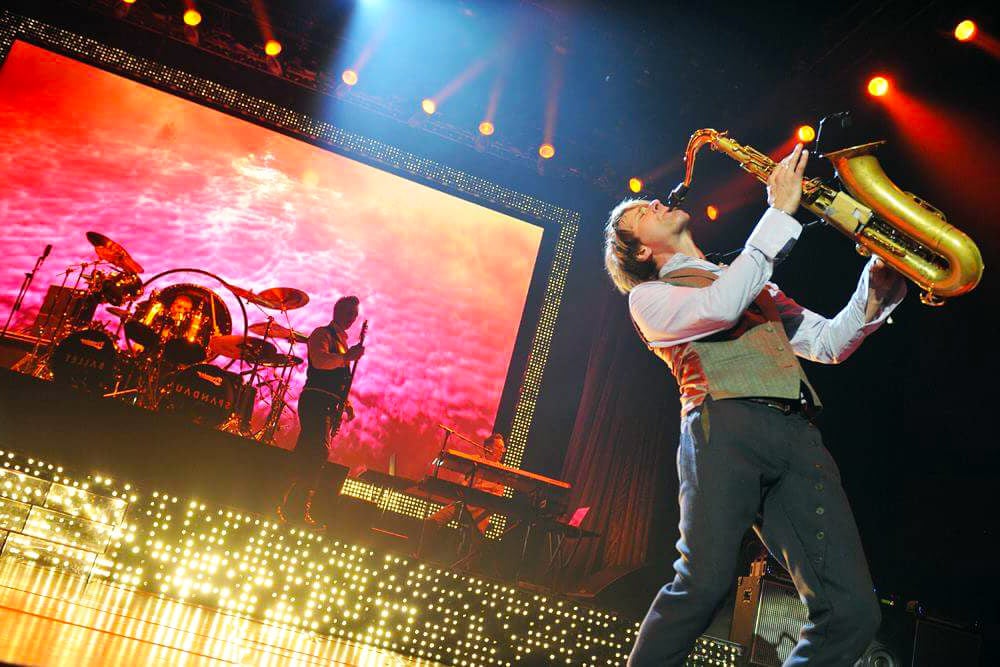 18 Mar 2015
A Night Of Gold
Last night, 80s legends Spandau Ballet returned to the stage at The O2 to wow crowds with their classic hits.
What many might describe as a "truly golden" night of entertainment and live music, here's how it went down.
08:13: Preparation begins
First thing in the morning and The O2 is already a hive of activity. The equipment is in, the soundchecks are underway, and the atmosphere is electric. London, look out!
10:11: Ready and waiting
A few hours in and, unable to contain his excitement, Gary Kemp tweets: "Ready for ya! @TheO2 #spandaulive"
Ready for ya! @TheO2 #spandaulive pic.twitter.com/jfhSnG8xNO

— Gary Kemp (@garyjkemp) March 17, 2015
12:00: Yum
Lunchtime arrives and the final hours of countdown begin. Doors open in a little over 6 hours and the stars, crew and fans are all happily tucking into their lunches all over the city.
18:30: Curtains please
The time has come and the doors are open; flooded with Spandau fans eager to catch a glimpse of their favourite stars. But there's still a while to wait ... up first is DJ Rusty Egan!
19:30: DJ in the house
Kicking the night off, DJ Rusty Egan gets the crowd moving with what one Twitter user described as a "cracking set" that transported the crowd back in time to the highlights of Camden Palace.
@DJRustyEgan cracking set 2nite b4 @SpandauBallet at @TheO2 took me back to Camden Palace days #80sthrowback #recycledteenager

— Sharon Bassingthwait (@ShazzBass) March 17, 2015
20:10: At the edge of their seats
A little after 8pm and the crowd are on the edge of their seats. It's time for the interval which means that up next is the main event ... the legends ... the romantics ... Spandau Ballet!
20:30: Are you ready?
The tension has mounted to unprecedented levels as the first chords of the favourite hits are heard. Spandau Ballet steps into the spotlight and instantly wins the crowd.
21:15: Well into it
By the time 9pm passes, Spandau has already delivered a mass of hits to their adoring fans. Let's not forget these guys sold over 25 million records so there's plenty of material to go around.
While Steve Norman does what he does best (no, not jumping off speaker stacks), Tony Hadley belts out the notes and John Keeble keeps the beat. Gary and Martin deliver their rhythmic base and guitar lines, hooking their audience and displaying plenty of stage presence.
Fantastic concert at O2. @SpandauBallet Dancing to True with @Digbeedee. An evening I will never forget. pic.twitter.com/VhzJLUY8no

— Clare Denyer (@denyer_clare) March 18, 2015
22:30: Encore?
As the night draws to a close, fans eagerly cry out for more. Who is Spandau to disappoint?
00:59: Until tomorrow....
With the first night of their two-night performance homecoming behind them, it's time for the Spandau brothers to rest their heads. But they're not the only ones.
Fans skip home in the early hours reliving every moment. Some, like choreographer Arlene Phillips, have to get up in a few hours but they don't care.
"@arlenephillips: Even a very late night @SpandauBallet @TheO2 doesn't mean I can have a late morning" What a fantastic night though!

— The O2 (@TheO2) March 18, 2015
They've had the time of their lives and seen a stage show that will never be matched and only be repeated once: tonight at The O2.
Let's do it all again boys.