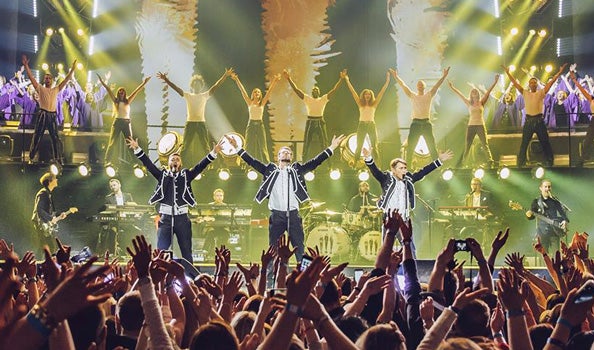 27 Jan 2017
Acts YOU'RE Most Looking Forward To Seeing In 2017 [3 mins]
We've got an amazing line-up of acts coming to the stage in 2017, but which ones are YOU looking forward to seeing most? Our team has scoured social media to see exactly which artists you can't wait to see this year – and here are just a few…
@LittleMix fan girl @M3gz1996 was quick to tell us how much she was looking forward to the #GoldenDaysTourLondon
@TheO2 @LittleMix they're my faves too!! 😍 Can't wait for #GloryDaysTourLondon 🎶❤💖

— Megan💝 (@M3gz1996) 14 January 2017
…and she's not the only Mixer who's counting down the (glory) days. Errrm, you might be a little early, @LittleMixTeamFR, but November will soon come around!
This is me Patient at the O2 arena for live the #GloryDaysTour In NOVEMBER 🙈😂 @LittleMix excited pic.twitter.com/crEZslWSED

— Little Mix FR (@LittleMixTeamFR) 5 January 2017
There's excitement for a gig, then there's REAL excitement for a gig! @mrskateg is so delighted at bagging tickets to the BROS reunion that she's even got a phone case to mark the occasion! 10/10 for commitment to the cause…
Oh, Sarah we can only hope for a boyfriend as good as yours! Well, @GRWilson81, we hope she appreciated her Take That tickets.
I've just cemented my position as boyfriend of the year for 2016. Tickets to Take That at the O2 next year for Sarah's birthday sorted!

— GRW Esq (@GRWilson81) 4 November 2016
Words might have failed @EllsShepherd when his @CraigDavid tickets arrived, but his emoji skills didn't let him down. We're just as buzzed, Elliott.
Our @CraigDavid tickets arrived for 25th of march at the @TheO2 .... words can not describe the buzz feeling I have for this!!! 🐝🐝🐝🐝🐝🐝🐝🐝🐝🐝🐝🐝

— Elliott Shepherd (@ellshepherd) 22 January 2017
We get the feeling that @UK_of_LUKE might somewhat be excited about the @ArianaGrande #DangerousWomanTour. Here's to a banging night, Luke.
BANG!BANG! Somewhat excited about this one! #ARIANAGRANDE 😍 #DangerousWomanTour #London #TheO2 😊🎶💃 #SidetoSide #BreakFree #DangerousWoman pic.twitter.com/x60wfyQltZ

— Luke Steede RVN (@UK_of_LUKE) 26 October 2016
@AdamLamy is so excited about our 2017 line up that he's already booked three events. That's the rock n' roll attitude we like to see, Adam.
My 2017 looking amazing @TheO2 seeing @KaiserChiefs @ollyofficial @ShawnMendes with my good mate @broganbeach_20 💯💯💯💯🎶🎶🎶

— Adam Lamy (@adamlamy) 20 September 2016
February might not be the most interesting month of the year, but it's going to be epic for @jerredlazar. He's lucky enough to be seeing Green Day and can't contain his excitement!
GOING TO SEE @GreenDay AT @TheO2 ON THE 8TH FEBRUARY!!! #GreenDay #GreenDayIsBack #GreenDayTour

— Matt Barn (@BattMarn) 7 September 2016
Heavy metal gods Iron Maiden will be entertaining the crowds this May in what promises to be a truly explosive performance. @CarsMaiden will be there – will you?
Yes! @TheO2 tickets for @IronMaiden booked for me and @liamww in May 🤘🏻😝🤘🏻 up the Irons#IronMaiden

— Carla (@CarsMaiden) 26 September 2016
Bruno Mars will be getting his funk on at The O2 arena in April, and two people who are certainly going to be there are @mikemoyes1987 and Charlotte. Let the countdown begin!
Boom!!! Me and Charlotte are off to see @BrunoMars at @TheO2 in April! #brunomars

— Mike Moyes (@mikemoyes1987) 21 November 2016
There's no harm in a bit of forward planning, and it sure looks like @kurtmartinez has got it in the bag for when he sees Blink-182 in July.
Blink-182 tickets booked! 👊🏻😁 Roll on July!
🎟🎟🎟@GraceAmelia24 @LouisMinney @blink182 @TheO2 #Blink182 #TheO2

— Kurt Martinez (@kurtmartinez) 9 November 2016