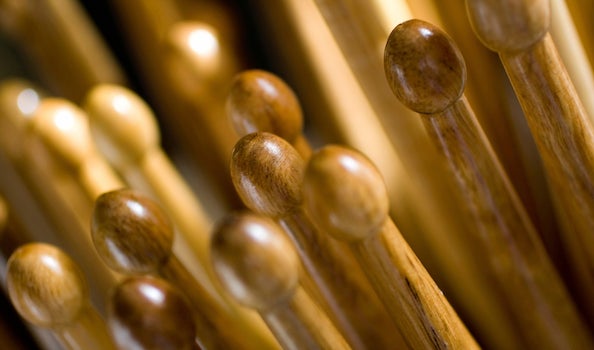 18 Nov 2015
Air Drumming Just Got Serious
Making music from thin air with the motion sensor drum kit
Air drumming used to be a thing we did when we were alone in our rooms, pretending to be Chad Smith or Dave Grohl. No? Well, we did, anyway.
These days, however, motion sensor drum kits are taking air drumming to whole new levels. Can it really be? Can we really play a full drum kit, with NOTHING ACTUALLY IN FRONT OF US? It might look a bit creepy at first, but air drumming has never been more real.
This, of course, will come as great news to many artists who use programmed drums within their work; including Jason Derulo, who'll be tearing up our arena stage on 5 February.
With almost every industry digging deeper into digital evolutions, it's no surprise drums would eventually become, well, drum-less. First we could programme drums on a computer, then we had electric drum kits, but this is a whole new experience; further merging live playing into the digitalisation of music. It means people like @ed_bodey will never look ridiculous again: 'Virtual kit makes drums in the air. Will make my random waving listening to #music all these years make sense! #tech.'
Virtual kit makes drums in the air. Will make my random waving listening to #music all these years make sense! #tech http://t.co/kI9Lg4KQAP

— Ed Bodey (@ed_bodey) April 13, 2015
The technology is built around motion-tracking software, which, in real time, interprets your playing and translates it into a MIDI signal – turning the drummer's movements into sounds. What's more, it will even detect how hard you are hitting the invisible 'kit', acknowledging the nuances and subtleties of live playing. Essentially, if you hit quietly, you get a quiet sound; and if you hit hard, well, you know exactly what'll happen!
Richard Lee, co-founder of motion sensor kit developers, Aerodrums, has been at the forefront of the air drumming revolution. In a recent interview, he talks through the technology behind the concept: 'We use a high-speed camera to make sure that we can accurately determine the speed that the sticks are moving,' he said, 'and this is important to provide an authentic drumming experience. We put a lot of work into modelling the volume response of real drums.'
Sure, this is all very impressive. But how will this new wave of drumming technology impact the lives of drummers?
Well, for a start, drummers can now practise almost anywhere! Age-old drumming nuisances – such as lack of space, lugging around heavy gear and angry neighbours complaining about the noise at 3am – are overcome instantly. You don't need space, there's barely anything to carry around, and you can easily control the volume of your playing (no matter how carried away you get power-drumming along to old Nirvana songs).
Even though this changes everything for drummers looking to increase rehearsal time; allowing them to play whenever their heart desires, we feel it'll be a long time before we see anyone air drumming on stage. It might be super-practical, it might salvage relationships with neighbours and landlords, but nothing beats a loud, booming live kit on stage at The O2!