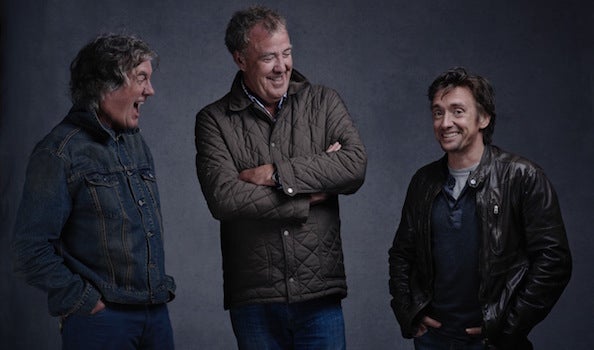 18 Nov 2015
Clarkson, Hammond & May Live
All You Need To Know
Jeremy Clarkson may be slightly controversial from time to time, but you've got to give it to him – he knows how to draw a laugh. So when Top Gear disbanded earlier this year, fans were distraught.
We were all worried. Worried they would part ways forever. Worried that we would never enjoy their unique, mocking dynamic and one-upmanship ever again. And people who had purchased tickets to the up and coming Top Gear Live were panicked – what would happen to the planned show?
Well, it looks like the boys are sticking together, for now anyway. So here's everything you need to know about the bombastic and newly-named show…

So, it's still going ahead? Just under a different name?
Yep. Luckily, the BBC only had minor dealings with the planned live tour, which meant that after some hefty negotiations, they were allowed to proceed with the show, but with the absence of any Top Gear branding, or mentions of the BBC. No Stig, either. In classic Clarkson style, however, they've taken what could have been a weakness and turned it into a major gag that runs throughout the 90-minute performance. Even the name change has an ironic laziness about it that raises an eyebrow and turns a wry smile. After Clarkson slyly announced the rebranding on Twitter, by referring to the show with its new moniker and a legal caveat, @BrendonBrowne replied, '@JeremyClarkson you should actually call it "For Legal Reasons What Is Now Called Clarkson Hammond and May Live".' We love it, Brendon. Bet Jez wishes he'd thought of that first!
@JeremyClarkson you should actually call it "For Legal Reasons What Is Now Called Clarkson Hammond and May Live"

— Brendon S. Browne (@BrendonBrowne) July 24, 2015
Ok – what can I expect?
Well, have you ever seen a show called Top Gear? It's quite similar, supposedly. Lots of ridiculous stunts, including flaming Porches, a host of stunning supercars, and lots of exclusive new footage in entertaining cutaway scenes. And plenty of banter, of course. We're expecting a 90-minute motoring maelstrom of laughs and lusting after some of the best cars the planet has to offer. That's about as much info as we can give you without spoiling the fun...
So now I just have to book a ticket?
Well, not quite. Yes – you can book a ticket, but there are so many choices! Along with regular seated tickets, we're also offering a load of VIP packages for guests who really want to make a night of it. It ranges from the Turbo Package, which includes ringside seats and a special gift pack, up to our Premium Club Package which also gives guests access to a two-hour pre-show event at luxury Argentinian Steakhouse, Gaucho, with a complimentary bar and a three course meal thrown in.
'Clarkson, May, and Hammond are back! I can finally live normally again!' – oh @KalAttenborough, we know how you feel!
Clarkson, May, and Hammond are back! I can finally live normally again!

— Kal Attenborough (@RevolvingAir) July 30, 2015