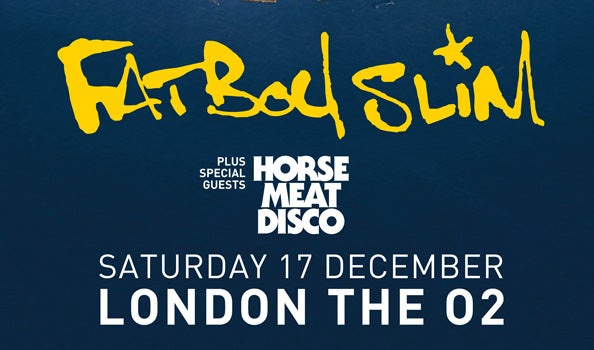 13

June

2016
AMAZING Facts You NEED To Know About Fatboy Slim!
We all know Fatboy Slim's real name is the strait-laced Norman Quentin Cook, we know he's married to TV and radio presenter Zoe Ball and had huge hits in the 90s with many a chart-topping banger. But we bet you didn't know these other golden nuggets!
The Brighton native's kicking off party season early (or is that late?) with The Night Rave Before Christmas at The O2 in December, so before then, here are a few more fabulous Fatboy facts for you to chew over.
1. He's hit No. 1 with three acts
Getting to number one in the charts is an immense achievement. Getting to the top spot in three guises is just plain ridiculous – and Fatboy Slim is one of only three people to do it. He's done it while a member of The Housemartins (Caravan Of Love, 1986), with Beats International (Dub Be Good To Me, 1990), and as Fatboy Slim (Praise You, 1999). And for that, we will indeed praise you!
2. It could've been four
When Cook was a member of short-lived band Freak Power, their song Turn On, Tune In, Cop Out was a bit of a flop first time around. That was until it featured on a Levi advert in 1995 and was re-released. Proving second time's a charm, it was a huge hit and only narrowly missed out on No. 1 (for info, it peaked at number 3).
3. His music helped define the 90s
Fatboy Slim released his second album, You've Come A Long Way Baby, in 1998 and it duly went to the top of the UK album chart (and in New Zealand), and sold several million copies around the world. There were also four top 10 singles from the album – Praise You, The Rockafeller Skank, Gangster Trippin and Right Here, Right Now.
4. His videos are brilliant
It's hard to pick a favourite Fatboy Slim video – there are so many brilliant shorts to accompany his singles. Praise You is a standout, which saw award-winning director Spike Jonze shoot a fictional dance troupe, guerrilla-style, in a busy street. Even today, that video doesn't get old. Right Here, Right Now plotted human evolution, while Weapon Of Choice saw Hollywood star Christopher Walken drafted in to dance around a glitzy hotel like a Broadway hoofer.
5. It's his first-EVER show at The O2
He's played the superclubs of Ibiza, beach parties around the world, and headed up far-flung festivals, but The Night Rave Before Christmas will be Fatboy Slim's first show at The O2. And he's playing in-the-round, meaning there'll be 360 degrees of dancing around him, and a mind-blowing light show up above. Simon Coston it will be mental, yes, yes it will.
Tickets for @FatboySlim at the O2 sorted. This will be mental. #funksoulbrother

— Simon Coston (@simoncoston) 8 June 2016