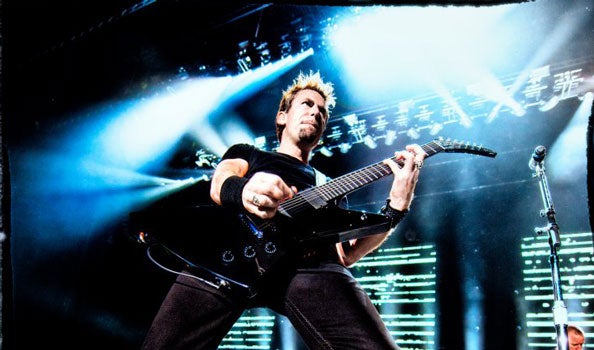 1 Sep 2016
Band Name Back Stories You Won't BELIEVE!
Ever listened to a band and wondered where their name came from? Some monikers are so bizarre that they can't simply have been plucked out of thin air – or could they?
If you want to boost your music trivia, here are six acts with a fascinating back story. You'll never listen to them in the same way again…
1. Nickelback
Once upon a time known as the Village Idiots, the Canadian rockers wisely decided on a name change. Can't really imagine a band called that headlining The O2.
But what would they be called instead? Mike Kroeger had an idea – Nickelback. He'd said it thousands of times while working Starbucks, giving people their change. "Here's your nickel back", he'd say, handing over five cents. It stuck, and it's been on millions of album covers and tickets ever since.
2. Bring Me The Horizon
What sort of films would you most associate with British rockers Bring Me The Horizon? Chances are the first thing that won't spring to mind is Pirates of the Caribbean, but that's exactly where their name came from.
Frontman Oli Sykes revealed that the band got their name from the first film in the series. The final line finds Jack Sparrow saying "now, bring me that horizon," and the rest is history. We're not quite sure Sparrow had Bradford in mind when he said it, @abitoddish!
3. Simply Red
The back story behind this band name probably makes perfect sense when you think about it. Flame-haired lead singer Mick Hucknall's nickname was Red, which he decided would be the perfect band name.
After further thought, he reckoned it just didn't sound quite right and needed another word. That's when he eventually settled on Simply – and it stuck. @stuartjohnwilliams saw them in action the last time they visited the tent, so make sure you don't miss out when they perform here at The O2 this November.
4. Chumbawamba
You've heard that saying about giving monkeys typewriters, and sooner or later they'd write the complete works of Shakespeare? Well, someone once did give a monkey a typewriter. The only thing they wrote even resembling a word was, you've guessed it, chumbawamba.
The band have given other explanations for their nonsensical name, but we like this one best. They may have disbanded back in 2012, but as @awesomemorris points out, their hit single Tubthumping is still on people's minds.
Mo Farah was knocked over, and still got up to win the gold. Which means Chumbawamba are as relevant as ever.

— Alex Morris (@awesomemorris) August 14, 2016
5. Bastille
Sometimes simple is best when it comes to choosing a band name. Bastille frontman Dan Smith's birthday falls on 14 July, which just so happens to be Bastille Day in France.
In case you didn't listen during that particular history lesson, it's a national holiday that marks a standout moment in the French revolution of 1789. And we're sure you'll agree, it makes a pretty epic name for a band!
6. The Beatles
What do The Quarrymen and The Silver Beetles have in common? They were both band names The Beatles had before finally settling on, well, The Beatles.
The Fab Four were big fans of Buddy Holly and the Crickets, so what better way to pay tribute than also choosing an insect-themed band name? We quite like the sound of The Daddy Longlegs, but each to their own!