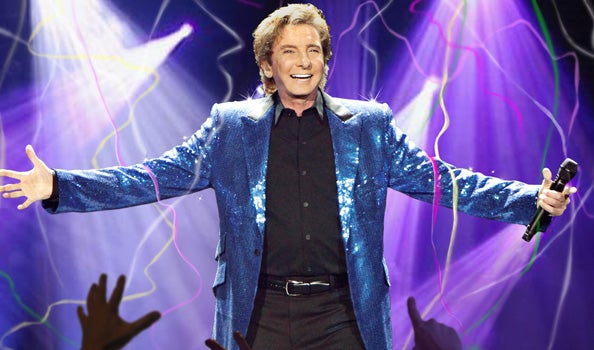 7 Mar 2016
Barry Manilow QUIZ: How To Tell If You're A "Fanilow"
Barry Manilow is a stalwart of classic entertainment – singer, producer and what other people in showbiz would call a "true professional", he is utterly beloved by hundreds of thousands of fans all over the world. Sadly, there's a whole generation of people who have been left behind without knowing his amazing back catalogue, including @brandydavis01.
Seeing @barrymanilow tonight made me wish I'd actually grown up listening to his songs. I feel like I missed out on something. #onelasttime

— Brandy Davis (@brandydavis01) February 11, 2016
Well, Brandy, don't worry – we've got a quiz that will test exactly how much of a "Fanilow" you are right now. Get cracking and enjoy…
1. What did Bob Dylan say to Manilow at a party in 1988?
Barry WHO?
Don't stop what you're doing, man. We're all inspired by you.
I always fancied Mandy, too.
Answer: B. Yep, Manilow has a lot of famous fans too – Dylan even hugged him! He's received a lot of praise, including Frank Sinatra who famously said, 'He's next,' – referencing the fame and recognition that Sinatra himself had enjoyed.

2. What did Manilow win an award for in 1976?
The Oscar for Best Supporting Actor in One Flew Over The Cuckoo's Nest
Winner of a local Brooklyn talent show
A Clio Award for writing and performing a jingle for Band-Aid
Answer: C. When Manilow started out in his music career, he was writing advertising jingles! It doesn't stop with Band-Aid either, you can hear his voice on loads of old commercials, including Polaroid, KFC, Pepsi and McDonalds.
3. Which famous American artist is Barry Manilow often associated with?
Bette Midler
Brad Pitt
Dean Martin
Answer: A. Midler saw an early Manilow show in 1971 and hired him as a production assistant with her first two musical releases – he was also her tour director, and they worked closely together for the next four years, and on multiple projects since.
4. Which song inspired covers from both Donna Summer and Take That?
Could It Be Magic
Three Times A Lady
Mandy
Answer: B. The 1985 CBS film actually starred Manilow in the lead role, believe it or not. If you've never listened to the lyrics of that upbeat song – do it. It tells such a dramatic and tragic story, it's hard to believe it fits into 4.05 minutes! Just be careful listening to it when you're working out, as @spidey_bolt discovered.
My headphones are playing Barry Manilow at the gym and suddenly everyone's in sync to the Copacabana #lookoutLola

— SpideyBolt (@spidey_bolt) February 14, 2016
5. Which Disney film features a Manilow original song?
Frozen
The Rescuers
Oliver & Company
Answer: C. The song Perfect Isn't Easy was also sung by Bette Midler! He also wrote music for the Disney Sing Along release, Let's Go To The Circus.
6. Which celebrity was Manilow's 2011 album, 15 Minutes, inspired by?
Chuck Norris
Britney Spears
Christina Aguilera
Answer: B. A story about the highs and lows of fame, Manilow was influenced by Spears' struggles to balance her professional and personal life in 2007.
8. How did Australian officials use Manilow's music in 2006?
As a contender for the new Australian national anthem
Blasted out in residential areas at night to deter gangs from meeting up
As part of a nationwide dance competition
Answer: B. Manilow found it hilarious and commented that maybe if the youths just gave his music a chance – they might enjoy it!
9. What is the surname that Manilow was born with?
Pincus
White
Alan
Answer: A. Manilow is his mother's maiden name, which he reverted to around his 13th birthday, half a point for Alan, though, which is his middle name.
10. What did Manilow's old neighbours Ronald and Nancy Reagan prevent him from doing back in the '80s?
Running for President of the United States
Sunbathing naked
Coming round for dinner
Answer: B. Although he was, indeed, always vying for them to invite him over for dinner, it was his habit of catching the rays sans-bathing suit that suddenly became deeply inappropriate when the Reagans would return home by helicopter.
So, how did you do? Convinced that he's a legend and feeling like you want to become an official Fanilow? There's only one next step you need to take, and it involves seeing his last ever tour this summer…