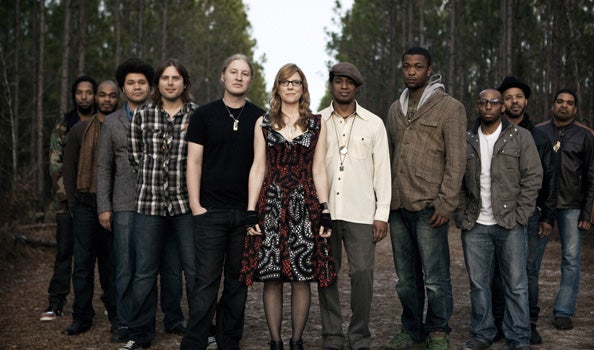 26 Oct 2015
Bluesfest At The O2
BluesFest returns to London this November for a weekend of blues-inspired music from some of the world's greatest artists. This year, the Festival has upgraded to The O2 and will play host to some incredible acts. Here's our handy guide to THE most exciting blues event of the year.
Location
BluesFest takes place at three venues within The O2; the first being the O2 arena, with the others sprawled out across Brooklyn Bowl and Indigo at The O2 (both of which can be found under the tent).
We couldn't be prouder to have it all going on under our roof.
Line up
Not only do you have the iconic Dave Matthews Band live on stage, but we've got Tom Jones AND Van Morrison TOGETHER here the following night – which is any blues fan's dream. Across the weekend we'll also be reveling in the delights of Tedeschi Trucks Band, Jo Harman and Matt Schofield.
Having celebrated over two decades of touring and creating music together, it's a real honour to welcome Dave Matthews Band to The O2. With eight albums' worth of material, so there's no doubt their performance will have a little something for everyone.
The band have also admitted they're working on a follow-up to 2012's Away From The World, and have already started debuting some new material live. BluesFest 2015 will be among the first opportunities to witness the new tunes in all their blues-infused glory. We've been desperately trying not to excitedly squeal in the office!
You can check out the full line-up here…
Atmosphere
Although only in its fifth year, the atmosphere at BluesFest is what keeps blues fans returning time after time. Not only does the event welcome some of the best musicians in the world, it always creates great vibe and brilliant all-round experience.
It certainly seems @karloselmo enjoyed himself last year, tweeting: 'Had a great time @BluesFestUK today. @NellBryden was superb. What a voice!! Coming back again next year!! #BluesFest.'
@karloselmo enjoy the rest of your birthday chap.

— Paul Garratt (@PaulG258) October 31, 2014
Well, Karl, we'll see you there. Along with all you blues fans!