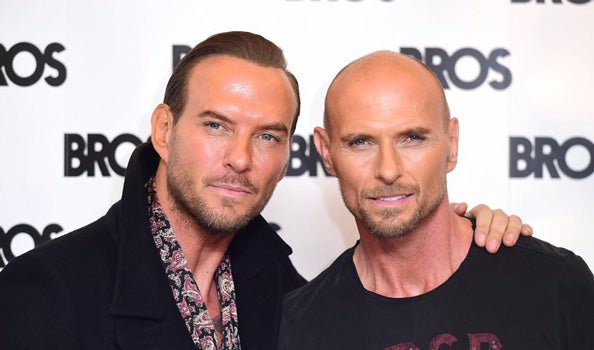 25 Oct 2016
How Excited Are YOU For The BROS Reunion? [3 mins]
We're pretty excited (OK, VERY excited) to be welcoming BROS on their reunion tour next year… and it seems we're not the only ones. We've scoured social media to find your best reactions to the Goss Brothers reforming after a 24-year break!
Making dreams come true
The announcement BROS would be hitting The O2 arena AND embarking on a UK tour was almost too much for fans to handle. There was a mixture of delight and disbelief as the first gig sold out in just seven seconds, as @mrchrishubbard and @Alison_Boler discovered.
Blimey - there we were in the office mocking the Bros reunion. They've sold out the O2 arena in London in just SEVEN SECONDS!! 😮

— Chris Hubbard (@mrchrishubbard) 8 October 2016
Its a GREAT day when the Bros reunion show at O2 sells out in SEVEN SECONDS and I get three tickets! Waited 30years for this!! 😬

— Alison Boler (@Alison_Boler) 7 October 2016
Digging out the tour merchandise…
It seems the hardened BROS fans among you had high hopes for a reunion tour – so much so in fact that you've held on to tour merchandise for all these years. Check out these impressive items from @davehodder and @petergabi. At least your wait paid off, guys!
…and those old ticket stubs
Wowsers, look at the dates on these! Hats off to @DurkinSteph and @denpais who've managed not to keep hold of their BROS ticket stubs since the 1980s.
Found my ticket to warm up gig for Bros's first ever tour at Mcr Apollo @mattgoss @LukeGoss #memories #brosette pic.twitter.com/9EJjG5vWLn

— Steph (@DurkinSteph) 10 January 2015
Don't forget those Grolsch bottle caps
It might not have been the most fashionable era, but BROS certainly made their mark on the 80's fashion scene. For those of you not familiar with the Grolsch bottle top trend, it involved attaching two of them through your shoelace holes so they'd click and clatter as you walked. Stylish. @linlush shows us how it's done…
Done this for my daughter lol, brings back memories from my much younger years @mattgoss @LukeGoss #bros #grolsch pic.twitter.com/k3g51whrnh

— Lindsay Burns (@linlush) 23 April 2016
Brosettes reunited
Before the Beliebers and the Directioners there were the Brosettes – an army of dedicated BROS fans who followed their every move. The good news for the lads is many of them are still going strong, and like @juliettelouise and @summerbabe6969, they're just counting down the days until the 2017 shows.
Wow excited about the #BrosReunion i never stopped being a brosette! ☺️🙌🏻

— Juliette Louise (@juliettelouise) 14 October 2016
The best birthday present ever...... going to see Bros at the O2. I was a huge Brossette back in the day.

— Nikki Roberts (@summerbabe6969) 16 October 2016