Home
Cirque Du Soleil - Dralion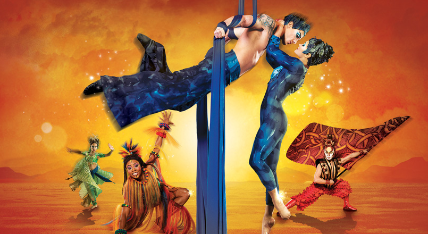 2 June 2014
Cirque Du Soleil - Dralion
What is a Dralion?
A Dralion is a mythical creature - part dragon, part lion, symbolising the East and West. It represents a mixture of cultures as it brings together a colourful blend of themes and music.
What to expect
There's a cast of 50 performers including clowns, singers and musicians from 15 different countries. Together they wear 1,500 items of costume made from 5,000 metres of fabric.
One memorable scene includes six performers flying between a trampoline and a wall together with a human pyramid jumping rope. There's great attention to detail in the staging, choreography and music, with a mix of skipping ropes, single-hand balancing, hoop diving and contortionists.
Experience it for yourself
It's hard to imagine that Cirque du Soleil started off as a group of 20 performers in 1984. Now it has more than 100 million spectators in over 40 countries on six continents. If you haven't been to a Cirque show, now's the time to start; if you have, then you'll know it's going to be a great experience.