Home
Comeback Special '68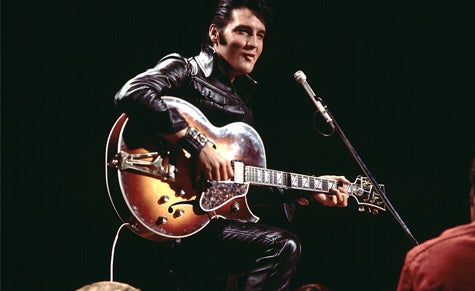 4 Feb 2015
Comeback
Special '68
In 1968 Elvis Presley made a television special that relaunched his career. Featuring his first live stage performances in over seven years, the program became the highest rated TV special of the year.
The iconic black leather suit worn by Elvis during the 1968 Comeback Special is coming to Elvis at The O2: The Exhibition of His Life on Thursday 12 February, before returning to Graceland.
The TV special, titled "ELVIS" led to Elvis' return to the music charts with Suspicious Minds and The Wonder of You, record-breaking shows in Las Vegas and sell-out tours. Elvis jamming in front of a small studio audience is regarded as the birth of the so-called 'Unplugged' concept that later became popular with artists on MTV.
During the 1968 Comeback Special, Elvis performed many of the songs that he was famous for, including That's All Right, Heartbreak Hotel, Blue Christmas, One Night, Love Me Tender (which he performed to his wife Priscilla, who was in the audience) and Are You Lonesome Tonight?. He finished the 'sit-down' jam session segment with a rendition of Memories while sitting between two audience members. The special ended with Elvis' legendary performance of If I Can Dream, his plea for world peace and tolerance after the turbulent world events of 1968.
Elvis at The O2: The Exhibition of His Life is the largest Elvis™ retrospective ever mounted in Europe. Since opening in December 2014, the exhibition featuring over 300 artefacts direct from the Presley family's treasured Graceland Archives, has received rave reviews from fans and the media alike.
Don't miss your chance to see the iconic black leather suit before it returns to Graceland.
To make way for the black leather suit to go on display, the American Eagle jumpsuit that Elvis wore on the Elvis: Aloha From Hawaii special will be taken off display on 11 February.
Read about Elvis Presley's Pink Cadillac, which is currently on desplay at the Elvis at The O2 exhibtion.