Home
Crazy Structures Around The World You Can CLIMB!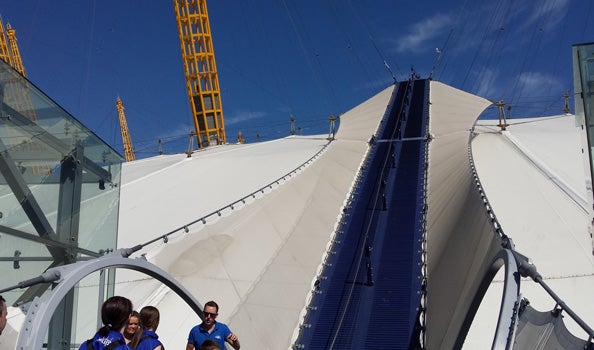 5 July 2016
Crazy Structures Around The World You Can CLIMB!
What's the best way to get to know a new city? Well, you could spend weeks reading guidebooks, or go on a bus tour with loads of tourists. Another option is way more exciting – and will look impressive on your social media photos too.
So, find your inner Spider-Man and scale some famous buildings to find out what a place is really about. Whether you're climbing the Sydney Harbour Bridge or getting up on top of The O2 in London, there are plenty of buildings to climb – plus a few you probably shouldn't.
You don't have to do anything too wild to get a great view. Here's the pick of the bunch.
1. The Eiffel Tower
There are, of course, lifts to the top of Paris' highest landmark, but where's your sense of adventure? It's a mere 704 steps to the top if you take the stairs, so why not live a little? You're in the world's most romantic city, after all! If you can't stop to admire the view with a loved one, just pose for a quick selfie instead. Whatever you do, don't drop your refreshments like @alysegoody.
2. Sydney Harbour Bridge
Climbing the Harbour Bridge is a rite of passage for many British tourists when visiting Australia – and who could blame them? From the top, you can look down on the iconic Sydney Opera House, while if you take the night-time tour, the illuminated skyline is quite a sight. Anyone for a spot of sky-high yoga with @GoTravelYoga?
Morning yoga atop Sydney Harbour Bridge https://t.co/WO0ZR3u5nm #worldyogaday #yogalove #onelove #yogaretreats pic.twitter.com/kxvSv15vu6

— Go Yoga Travel (@GoYogaTravel) June 21, 2016
3. Up at The O2
We spend so long thinking about what goes on inside the big tent in Greenwich that some people don't realise you can have just as good a time on our roof! As @chalfontchillie discovered.
Has anyone seen the new Sydney Harbour Bridge competitor at the O2. You can walk over the top!! @RizLateef pic.twitter.com/4wUuyLkK

— Chalfont Chillies (@chalfontchillie) November 9, 2012
Whether you're taking part in the original, twilight or sunset climb, you'll be rewarded with a view like no other. On a clear day you can see up to 15 miles around. All that's standing in your way is the 52-metre climb. Why not add it to your bucket list like @imogenscribbles?
Doing the Up at The O2 Sunset Climb would literally be the dream.

— Imogen H (@imogenscribbles) May 19, 2016
4. Statue of Liberty
If you're looking for brilliant things to climb – legally – then they don't come much more famous than The Statue Of Liberty. If you're visiting New York it's an absolute must, although you will have to get a ferry over to Liberty Island. That's all part of the fun, as is the cheesy photo you have to take when you've walked to the top. @lalobrito shows us how it's done.
5. Genghis Khan Equestrian Monument
On the off chance you're ever in Mongolia capital Ulaanbaatar, definitely jump in a car and drive about 30 miles east to Erdene, where you'll find the Genghis Khan Equestrian Monument. It's a 40-metre tall steel sculpture of the famous ruler on horseback. Visitors can walk up the internal steps and out of Khan's, um, groin area, to the head of the horse where they can awesome pictures like this one by @Odetta23.
Mad Genghis Khan monument in the Gobi .. pic.twitter.com/Llhuxr0aYi

— Odette Fussey (@Odetta23) October 12, 2015