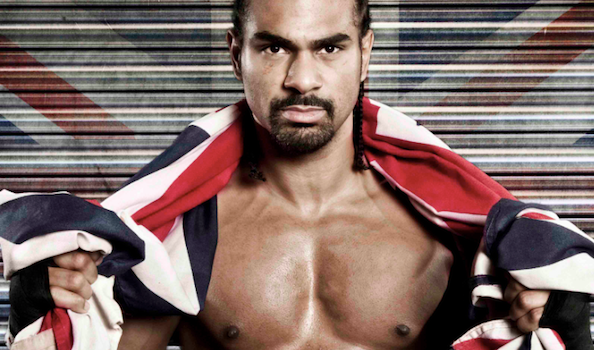 6 Apr 2016
DAVID HAYE INTERVIEW: 'You Don't Get Paid Overtime In Boxing!'
A lot has changed since David Haye first laced up a pair of boxing gloves in Bermondsey, South London, nearly a quarter of a century ago.
The Hayemaker is currently one victory into a comeback campaign that, if all goes to plan, will culminate in him regaining the world heavyweight title, which he lost to Wladimir Klitschko back in 2011.
But with a host of young, hungry contenders coming through the ranks – including fellow Londoner, Anthony Joshua – the former champ knows that staying at the cutting edge of the sport is critical.
It's why he's training harder and smarter than ever, with the help of new coach Shane McGuigan, son of the legendary former featherweight champion Barry McGuigan.
'A lot of traditional boxing coaches aren't very aware of strength and conditioning, or recent advancements in nutrition or training equipment,' says Haye.
'They think that all you've got to do is hit a bag, throw a million punches and do burpees, press-ups and sit-ups. That worked for some of the greatest fighters of all time, but like every other sport, boxing has changed.
'If you look at how a rugby player trains today compared to fifty years ago, it's completely different. If you're good enough you can train the old-fashioned way and still have success, but I definitely think that a more scientific approach will help improve your punching power, endurance and recovery.'
For Haye, this means playing to his natural athletic strengths. 'Maybe if I wasn't such a fast-twitch athlete then an endurance-based training style would suit me better, but at the end of the day I'm very explosive, and I like getting guys out of there nice and fast – you don't get paid overtime in boxing!'
It's a strategy that worked perfectly in his comeback fight against Mark de Mori at The O2 in January, which Haye won via a devastating first round KO, prompting @PeterHobbes to label him the 'hardest puncher in world boxing'.
@MarkdeMori @mrdavidhaye tbf, he's probably got the hardest punch in world boxing and he moves like a velociraptor 😂

— Peter Hobbes (@PeterHobbes) January 20, 2016
'In the past, the public was happy to see a good tactical battle, but nowadays they're a lot more impatient and they just want to see big, powerful knockouts,' Haye continues.
'For me, watching a guy like Floyd Mayweather is like poetry in motion, but there are a lot of people who say he's boring. They don't want to see a 12 round master class, they just want to see two guys punching holes in each other.'
It's another sign of the sport's evolution, and one that Haye attributes to a specific source. 'It's all because of the internet,' he muses. 'People can just go online and search "greatest knockouts" and see KO after KO. I think that puts pressure on boxers now to not only win fights, but finish them in exciting fashion.
'It's funny, though, because on the flipside, my last fight was over extremely quickly, and some people were asking why I didn't drag it out into the third or fourth round, so sometimes you're damned if you do and damned if you don't.'
Haye believes this emphasis on entertainment is becoming increasingly important outside of the ring as well. 'Boxing is a lot more of an entertainment-driven business now,' he explains.
'People want razzmatazz, they want to see A-listers, they want big musical acts and top DJs playing tunes. I believe I've done my bit to help with that, following in the footsteps of guys like Mayweather by hyping up fights and putting on a proper show for the fans.
'My last fight was a testament to that – we had a full house and a load of celebrities in the front row, including guys like Benedict Cumberbatch and Idris Elba.'
It's a spectacle that Haye is determined to replicate in his next bout – against Arnold Gjergjaj (best known as The Cobra) at The O2 on 21 May – even if it means he has to work harder in the build up.
'I'd love to go to the gym and focus on training and nothing else,' he tells us, 'but if I did that I'd be walking out into an empty arena. All the extra stuff around it, doing interviews and promoting the fight is tough, but it's got to be done.'
And although The Cobra will pose different problems to De Mori, Haye's banking on the same outcome. 'I'm training to knock my opponent out, and I'm confident that the night will end with him being rendered unconscious pretty quickly,' he smiles.
Some things, it seems, never change.