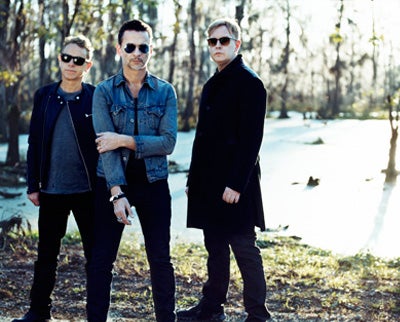 3 Apr 2014
Depeche Mode hit the tent
To celebrate Depeche Mode's third FOURTH date at The O2 in November, we are taking a little look back at the career of the electro-pop kings.
Who are Depeche Mode?
Depeche Mode are the most successful electronic band in history, selling over 100 million albums. Their unique brand of synthpop has topped the charts worldwide and has seen the band credited with changing the musical landscape while influencing many acclaimed artists. They're coming back to the tent in support of their fourteenth studio album 'Spirit'.
The History of Depeche Mode
There were many incarnations of Depeche Mode's line up in many different bands before they finally got together as Composition of Sound and began experimenting with synthesisers. At this stage, lead singer Dave Gahan was the missing piece of the puzzle, but he was quickly drafted in after impressing original band member Vince Clarke with a rendition of David Bowie's Heroes at a jam session in a scout hut. Depeche Mode were born.
The Road to Success
The band took their demo tape to all the big record company offices and demanded that it be played. After being told exactly where they could put that tape a few times, their ambition eventually paid off and their first single Dreaming of Me was released by Mute Records in 1980.
Which songs will I know?
There are so many Depeche Mode songs floating about the airwaves and on TV and film soundtracks that chances are you'll have heard most of the big hits. Everything Counts, Personal Jesus and Enjoy The Silence are instantly recognisable, but Just Can't Get Enough is the one you'll have heard a thousand times – a firm favourite after a couple of piña coladas at karaoke and heartily belted out on the football terraces.
You'll like Depeche Mode if you like…
If you're already a fan of bands like The Pet Shop Boys, Soft Cell, Human League, Ultravox and Simple Minds then Depeche Mode are definitely your cup of tea. Yazoo and Erasure are also good shouts as Vince Clarke went on to become a member of both after leaving his original band mates in 1981. Gahan claims that Clarke lost interest in Depeche Mode after receiving letters from fans asking what kind of socks he wore. It could've been worse…
What's the deal now?
Spirit is the band's 17th top 10 album in the UK and their huge world tour rolls back into town on 22 November.
Snap up your Depeche Mode tickets before they're gone!