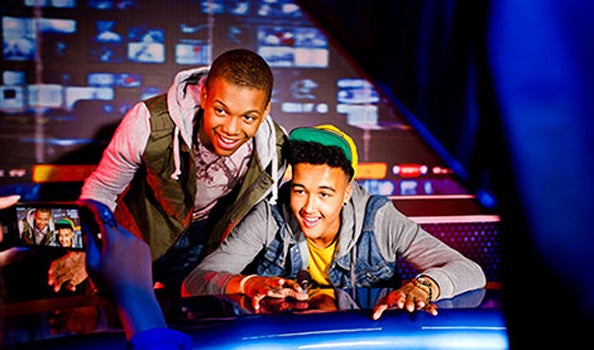 22 July 2016
Do You Want To Have The BEST Family Fun At The O2?
I'm BORED! It's the dreaded words every parent has to endure when the school holidays are in full swing.
Well, rather than screaming into a pillow, help is at hand because not only are we an awesome events venue, there's some pretty cool other stuff going on under the tent. Here's our guide to having a great family day out at The O2.
Get your bowling shoes on!
When Rolling Stone magazine describes somewhere as one of the most incredible places on earth, you know it's bound to be brilliant. At Brooklyn Bowl, you can eat, drink, rock and roll; the signature fried chicken is a highlight, and we can't wait to try out @Alex_Turner_81's recommendation!
@AlexSkolnick @brooklynbowl @O2 I recommend the pizza at the bowl...and the bourbon shakes.

— Alexander Turner (@Alex_Turner_81) June 23, 2016
The venue has three bars, and has hosted acts like Lauryn Hill, Pharrell Williams and We Are Scientists over the years. There are 12 bowling lanes so you won't be jostling for space.
Scale the dizzy heights of The O2
Fancy an adrenaline-fuelled thrill? We've got just the thing. Up At The O2 is a 90-minute experience that takes you on a guided expedition over the roof along a walkway suspended two metres in the air. A climb guide talks you through every step and you'll be rewarded with some pretty awesome views once you reach the top.
Eat and drink to your heart's content
If thrill-seeking isn't your thing, or you're feeling a bit peckish after seeing the sights of London from the top of the O2 tent, then luckily we have heaps of restaurants and bars to cater for every taste. Whether it's burgers, pizzas, sushi or steak, you'll be spoilt for choice. How about a spot of Thai food? Hope you saved some for us @egansmind.
First time at @busabaeathai and food very nice @TheO2 #Thai pic.twitter.com/izdhT6mgyr

— EGANSM1ND (@egansmind) July 3, 2016
Take movie watching to the next level
Sometimes, the best thing to do is just sit back and escape for a few hours, and luckily we've got that covered, too. Cineworld also offers Superscreen, complete with state-of-the-art projection and sound and a wall-to-wall, ceiling-high screen. You'll never settle for a normal cinema again!
Try your hand at reading the news
Ever watched a newsreader on TV and thought, I fancy a go at this? Sky Studios is a free exhibition giving you the chance to go behind the scenes and see how the news is made. The Sky staff will even record your moment in the spotlight for posterity - and who knows where you'll end up! It's open from 12pm to 8pm on event days, 12pm to 6pm on non-event days and from 11am on weekends.
Channel your inner speed demon
Are you a petrolhead that wants to prove to your kids who's the better driver? Here's your chance! The Innovation Station offers guests to race on a custom-built Nissan track, before taking to the Gran Turismo 6 racing pods, where there's a chance to win merchandise as well as bragging rights! The free experience is open daily from 12pm to 8pm. @LaiaSirena certainly had fun!
Toying around #Nissaninnovationstation at TheO2. Lots of fun!! pic.twitter.com/JiqgursPpq

— Laia Martínez Rubir (@LaiaSirena) May 17, 2016
Find out more about The World's Greatest
He was, quite simply, the greatest and Muhammad Ali at The O2 charts the incredible life and career of this extraordinary boxer. Featuring artefacts from his time in the ring, as well as the story of his life out of it, Ali's story transcends boxing glory with its humanity and diversity. It's a must-visit experience with all the family.
Frozen like you've never seen it before
If you can just about wait until December to keep the youngest members of your family entertained, this is the event for you. It's the film that took the world by storm, with a theme song that stuck in a million heads. The O2 will be transformed into Arendelle this winter for Disney Presents Frozen On Ice. All the favourites - Anna, Elsa, Olaf and Sven - will be there, and we bet your little ones will want to be too!