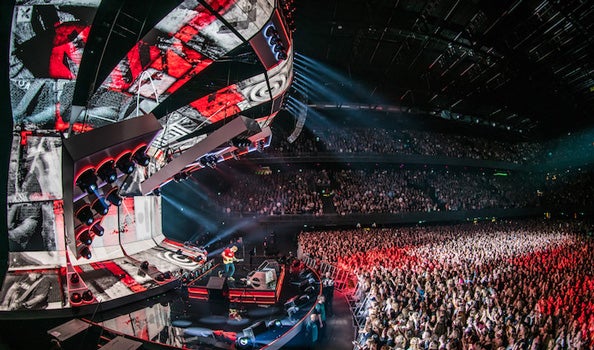 1 May 2017
Ed Sheeran Is In The Building. Here's What To Expect.
The time has finally come for Ed Sheeran's 3 nights at the tent and we're so ready to sing-a-long to our favourite hits we barely know what to do with ourselves. Here's everything you could possibly need to know about Ed's arrival…
The Loop Pedal
Ed is so good that he doesn't need a band to back him up. Watch Ed build up a track in front of your eyes in seconds.
The Set List

Be prepared to hear all the hits from Ed's new album ÷, including 'Shape of You', 'Castle on the Hill', 'Perfect' and 'Galway Girl'. You'll also get to hear some of your favourite heat-bursting tear-jerkers like 'I See Fire' and 'Thinking Out Loud' which will have you waving your phone torch before you know it.
The Support Acts
Ed has not one but two amazing support acts. If you love Ed's tunes you'll definitely be a fan of his first support act singer/songwriter Ryan McMullan who is joined in opening the show by Anne-Marie who you'll hear belt out chart hit 'Alarm'. What a way to start the show!
The Set
If there is one thing Ed is known for it's his incredible sets. The Divide Tour is no exception complete with some serious visual effects that bring his shows to a whole new level.
All Of The Feels
There is no doubt about it if there is one singer out there that has the ability to bring us all of the feels and having us in tears at the sound of a single note…it's Ed. Tissues at the ready.
The Crowd Selfie
We all know Ed is the King of the crowd pic so you best be ready to show him your winning smiles!
Now the night is upon us we all need to be prepared for what we know is going to be the Best.Night.Ever. Timings below:
Doors: 18:30
Ryan McMullan: 19:00
Anne-Marie: 19:30
Ed Sheeran: 20:30
Share your pics with us using #TheO2.