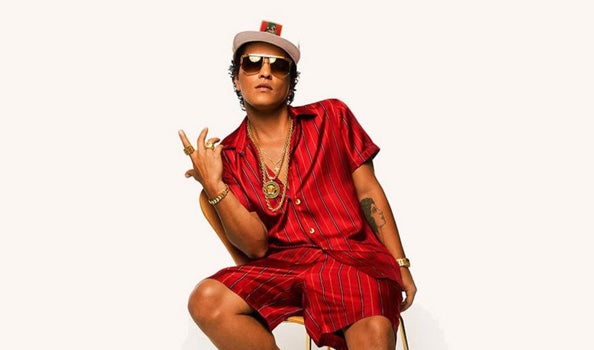 18 Apr 2017
Everything to expect from Bruno Mars at The O2
The week is finally here as Bruno Mars arrives in London for one epic residency. Excited much? Well here's all of the awesomeness you can expect from the 24K Magic World Tour.
The Moves
There's no doubt about it Bruno can bring the moves like no one else and we're so ready to join him…
The Full Band Experience
Everyone needs an entourage, right? Well Bruno quite simply has the best. Group dance anyone?
The Support Act
If you haven't heard the incredible sounds of Anderson .Paak then you are in for an absolute treat. Casually taking to the drums as part of his set, this is one support act to arrive early for.
The Set List
We know you're dying to know which of our favourite hits Bruno is going to bust out so we're not going to spoil it all but you can expect gems from his new album in the form of Finesse, 24K Magic, Chunky and That's What I Like all the way through to classics including Runaway Baby, When I Was Your Man and Just The Way You Are.
Pure 24k Magic…
If you're already on your way for a bit of 24K Magic at The O2 then check out all the timings below:
Doors: 18:00
Anderson .Paak: 20:00
Bruno Mars: 21:00
And for those of you who think it's too late to see our main man Bruno, well think again. Production holds have just been released and we've got tickets for every night this week. Go grab'em!