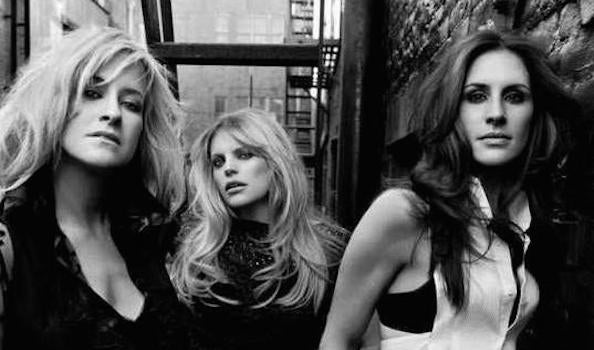 25 Apr 2016
Everything You Need To Know About Dixie Chicks
@KurtVolking12 kinda hits the nail on the head when he says, 'If someone says they don't like the Dixie Chicks then they're lying'.
If someone says they don't like the Dixie Chicks then they're lying

— Kurt Volking (@KurtVolking12) April 3, 2016
Quite honestly, those harmonising country stars are just so darn likeable, whether it's their music or their honest, relatable personalities.
We can't wait to see the iconic trio hit the stage later this year, but in the meantime, here's the low down for any newbies out there.
They're sisters
Don't be fooled by the last names! Martie and Emily are actually sisters, which we think is pretty apt, considering there's an age-old tradition in American country and western music for families to form bands together.
They started out as an all-girl bluegrass band
Founding members Laura Lynch (upright bass) and Robin Lynn Macy (guitar) definitely brought a more bluegrass feel to their sound. However, as the years went by, and as Lynch and Macy were replaced with the singer we all know and love today, Natalie Maines, they crossed into a more contemporary sound, with notes of pop, rooted in alternative country.
They've won 13 Grammy Awards
Even if you've never heard of them, Dixie Chicks have a huge following and have enjoyed critical acclaim, not only for their skilled musicianship, but also for just being an interesting, different sort of girl band who refused to conform to industry norms. As of December 2015 they have 30.5 million certified albums sold across the world and they're the top selling all-female band in the US, ever. Now that's success!
They wrote their first album thanks to a fan
Penny Cook, the daughter of a Senator, gave them $10,000 in 1990 so they could record Thank Heavens For Dale Evans – named after a successful and disruptive performer of the time. Pretty epic to think that someone loved your music so much they would actually fork out a significant sum of money just so they could buy your CD, right?
They're pretty controversial
They might look all sugary-sweet and innocent but, over the years, many of their songs have been banned in the US for naughty or provocative lyrics. Famous examples include an allusion to "mattress dancing" on the album Sin Wagon, and also a song about an abusive husband being gleefully murdered in Goodbye Earl.
Surely one of their biggest claims to fame, however, is the controversial on-stage comment that Maines made about the Iraq war in 2003, here in the UK. Speaking out against the conflict, the lead singer expressed her shame at hailing from the same place as then-president George W. Bush, sparking world-wide media coverage and a retort from the president himself. Well, you gotta admire their political convictions. Who knows what crazy stuff will go down in May.
Don't miss the drama – book your tickets now.