Home
Everything You Need To Know About Marvel Universe LIVE!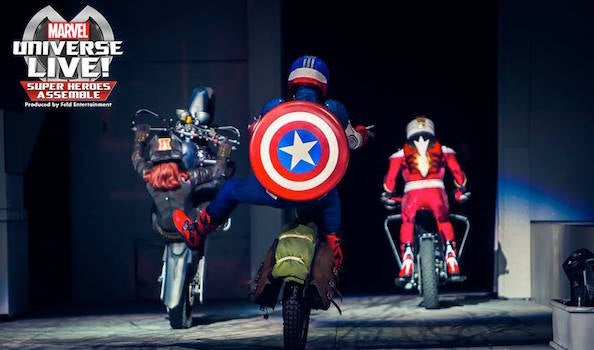 3 May 2016
Everything You Need To Know About Marvel Universe LIVE!
Those Marvel characters sure know how to keep us entertained! After a string of wildly successful movies – which amassed a whopping $18.6 billion in global box office fees – our favourite superheroes are taking to the stage for a no holds barred evening of live action and epic twists.
Marvel Universe LIVE! hits The O2 between 15-24 September, and boy is it shaping up to be a memorable night!
@SadSamThaSav certainly enjoyed the show, tweeting: 'Marvel Universe Live made happier than I've felt in a while. Plus, I looked adorable. I'm just a nerdy kid at heart.'
Marvel Universe Live made happier than I've felt in a while. Plus, I looked adorable. I'm just a nerdy kid at heart. pic.twitter.com/H5cEAeBvWu

— Samantha Miley (@SadSamThaSav) April 3, 2016
You're never too old to be a nerdy kid, Samantha, and don't let anyone tell you otherwise!
So if this is the first you've heard of Marvel's eagerly-anticipated new live show – and you're currently shaking with excitement at the thought of Hulk and the gang coming to town – here's everything you need to know…
There will be over 25 Marvel superheroes and villains involved!
It's going to be a superhero bonanza, unrivaled by anything we've ever seen before – with a host of our favourite characters donning their costumes for an unforgettable battle.
Of course, you can expect to see some familiar faces; as Spider-Man, Hulk, Captain America, Iron Man, Wolverine and Thor (to name just a few) take on a host of Marvel's most terrifying villains, led by Loki, Thor's evil brother.
In total, over 25 Marvel superheroes and villains will be gracing the stage throughout the night – leaving very little room for dull moments.
And that's precisely how we like it!
There will be some serious stunts and special effects going down
The team at Marvel don't do anything half-heartedly – and Marvel Universe LIVE! is no exception!
Taking live entertainment to unprecedented new realms, the show mixes raucous live action with a nail-biting plot, to create one of the most blistering stage productions you're ever likely to see.
It's already being saluted by critics as an ambitious and technically innovative masterpiece.
Expect to see mind-blowing special effects, breathtaking aerial stunts, spectacular pyrotechnics, jaw-dropping martial arts, and lots and lots and lots of crazy motorcycle action.
Need we say more?
There will be an original storyline
Seeing as Marvel Universe LIVE! is a show unlike anything else, it's only fitting that Marvel has produced a totally original and authentic new script to match the occasion.
The story is based around a heroic battle over the Cosmic Cube – the source of ultimate power and one of the most feared and coveted treasures in the Marvel Universe – with the world's most powerful superheroes coming together to ensure it doesn't end up in the wrong hands.
It doesn't get much more epic than that!
The show is suitable for all ages
There are no judgements here! In fact, Marvel has a knack for bringing fans of all ages together, through their customary enthralling, gripping storylines and all-action stunts.
The show, of course, is entirely child-friendly, created to blow the minds of young people all over the world.
But after all, when you've got motorcycles flying through the air and massive explosions lighting up the arena; it's only fair that adults can at least take a peek, right?
Scrap that, we don't care how old we are, we're going to be just as psyched-up as any 8-year-old!
There will be loads of cool and collectible merchandise available
For any harcore fans out there, you'll find an exclusive range of unique and collectible merchandise available from Marvel Universe LIVE! stalls.
From hoodies and character toys, to a specially-produced show prequel comic book, there will be plenty of great merch available to make sure you won't be forgetting the night any time soon.